Sudan tribune: Eritrean border guards shoot dead 10 civilians trying to flee
By Tesfa-Alem Tekle August 22, 2014 (SHIRE, ETHIOPIA) – Eritrean border guards have allegedly shot dead 10 Eritreans citizens as they attempted to cross in to Ethiopia, a recent escapee told Sudan Tribuneon Friday. Samuel Gedion said he was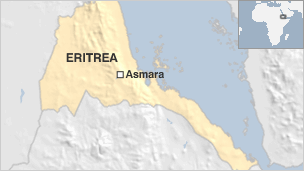 By Tesfa-Alem Tekle
August 22, 2014 (SHIRE, ETHIOPIA) – Eritrean border guards have allegedly shot dead 10 Eritreans citizens as they attempted to cross in to Ethiopia, a recent escapee told 
Sudan Tribune
on 
Friday
.
Samuel Gedion said he was among a group of 18 Eritreans who were trying to flee to Ethiopia two weeks ago.
"Ten of them were killed, while three of us made it to Ethiopia. I am not sure on the fate of the remaining five," he said.
He said border guards had opened fired on the group without any prior warning.
One of those reportedly killed was a young woman who had recently finished 18 months of military service.
Eritrea has a long-standing shoot-to-kill policy against those who attempt to flee the repressive nation, dubbed the North Korea of Africa.
Eritrean opposition groups in Addis Ababa told Sudan Tribune that hundreds of young Eritreans have been killed by border guards in the past two years alone.
The regime in Asmara considers citizens who attempt to flee as traitors. Those who are caught are often subject to indefinite prison terms and serious human rights abuses.
Many others are also punished by death, particularly if they are believed to have links to exiled Eritrean opposition groups.
Many young people, however, are still prepared to take the risk, fleeing to neighbouring countries in protest against indefinite military service, serious human rights abuses and bad governance.
Last week, the A report released last week by the International Crisis Group (ICG) entitled Eritrea: Ending the Exodus? calls on the Eritrean government to implement the long-delayed 1997 constitution
The group underscored the need to address the country's growing internal crisis which is behind the ongoing exodus, as well as calling for greater engagement with Eritrea – potentially ending a decade of isolation that has been both self-imposed and externally generated.
It urged the leadership in Eritrea to work towards gradual demobilisation of the military and undertake a restructure of the country's economy in order to create wider job opportunities.
"The youth exodus from Eritrea is symptomatic of social malaise and growing disaffection with the Asmara regime," said Cedric Barnes, the think tank's director for the Horn of Africa.
"The state's demand for the sacrifice of individual ambition to the greater good of the Eritrean nation – resigning oneself to, in effect, indefinite national service – causes more and more Eritreans to leave the country, even if that means risking their lives," adds Barnes.
He called on Eritrea's government to end the policy of indefinite national service and to work with international partners to build an economy that will create jobs for its citizens.
The secretive Red Sea nation currently has up to ten thousand political prisoners languishing in the country's secret detention facilities, including in underground prisons and shipping containers.
(ST)