The mysterious breakaway of the former pilot from Asmara's high security prison still unresolved and a matter of great concern to the Isaias Regime
The mysterious breakaway of the Eritrean former pilot, Dejen Andehishel, from high-security prison in Asmara (Carchelli) and his subsequent disappearance is still unresolved and a matter of great concern to the senior security authorities in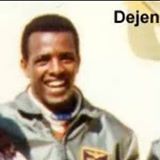 The mysterious breakaway of the Eritrean former pilot, Dejen Andehishel, from high-security prison in Asmara (Carchelli) and his subsequent disappearance is still unresolved and a matter of great concern to the senior security authorities in Asmara according to demo.archive.assenna.com sources from Eritrea.
After more than one month of the incident that took place during a broad-day-light, the Isaias regime couldn't locate the pilot who drove one of the officials' cars to pass through several hurdles within the prison premises and broke the main gate before vanishing into the capital.
Security forces of the PFDJ regime sealed off all main exit points within the same day and established check points along the main roads towards Ethiopia and Sudan, but couldn't capture the former pilot who was imprisoned for 15 years without charge for no apparent reason.
The sources added that Isaias visited the prison camp as soon as he received the report of his breakaway and insulted the officials for not shooting him on spot.
Such kind of high profile escape from the same prison camp is happening for the second time. These incidents expose the vulnerability of the PFDJ regime which is increasingly getting weaker. Its system has been broken while the Eritrean population has withdrawn its support. The one-man dictatorial regime is losing control of the country by day.
Assenna.Link: The mysterious breakaway of the former pilot from Asmara's high security prison still unresolved and a matter of great concern to the Isaias Regime