The Day Isaias Visited Obama
Last November Isaias Afeworki, President of the tiny country of Eritrea, made a big fuss to President Obama why Ethiopia was receiving so much development aid while Eritrea was simply ignored.  Obama, who was campaigning on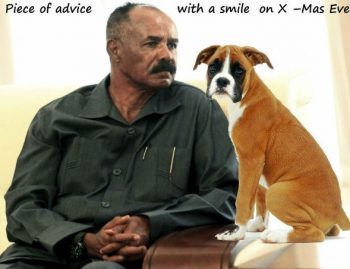 Last November Isaias Afeworki, President of the tiny country of Eritrea, made a big fuss to President Obama why Ethiopia was receiving so much development aid while Eritrea was simply ignored.  Obama, who was campaigning on behalf of Hillary Clinton at the time, had little time to explain his actions to the disgruntled president of Eritrea. Instead he asked him to fly over to Washington for a discussion before he leaves the Whitehouse for good.  President Isaias promised to pay Obama a visit soon. And as promised he travelled to Washington without much fanfare to see the US president.
Upon arrival Obama clearly laid down the parameters of Isaias' visit. He told his visitor that he should fulfil a set of prerequisites in order to become eligible to receive development aid.  Isaias agreed.
Obama proceeded by instructing Isaias to answer three questions to do with Bo, the family dog.  'Bo is struggling at the moment in showing his affection to Sunny, our female dog', Obama said.  'Your job is to revive Bo's passions by making him do three things: laugh, experience sadness and undergo a shocking incident', he added. 'We hope those three traits would trigger a chain reaction in Bo so he would soon begin to show some affection towards Sunny.  Isaias thought that was a piece of cake, and he soon set out to execute the first task in making Bo laugh.  So he leaned over and whispered something in Bo's ear. Much to Obama's surprise Bo began to snicker uncontrollably as he pointed his paw at Isaias again and again.
Curiously enough Obama asked Isaias how he managed to make Bo laugh. Isaias said, 'Actually I did not say much – I just asked Bo if he would like to come with me and visit all my friends back home'.  Obama was bemused.  He said 'I got it!', and then he turned to Michele and whispered, 'Bo is clever enough to figure out that Isaias has no friends whatsoever'.  'You see', he added, 'the president put each and every one of his old friends in jail … that is why Bo thought his claim was a bluff and outrageously funny'.
Having passed the first test, Isaias asked if he could move on to the next task – to make Bo experience sadness.  'By all means, Mr President!' said Obama.   Then Isaias approached Bo once again and whispered something in his ear. Bo whimpered as he paw-wagged – he was clearly distressed. Intrigued by Bo's behaviour, Obama asked Isaias what he said to Bo that made him so agitated.  Isaias replied: I asked Bo if he would like to visit and be friends with the Eritrean young men and women around Washington DC area. 'Aha, clever question', said Obama; then he turned to Michele and said 'You see, I understand Bo's anxiety now; he does not want to become a robot like the YPFDJ followers, the president's drilled young supporters. Poor dog! That is why he is so distraught!'
Isaias rubbed his hands and said, 'two down, one to go!'  Obama said, 'this is your final hurdle, Mr President'.  'If you can make Bo experience shock then the money is all yours … good luck!' Without wasting any time Isaias grabbed Bo's ear and whispered again.  This time the dog simply collapsed with a thud and passed out. Alarmed, Obama summoned help among the Whitehouse staff. Then he turned to Isaias and gave him a dirty look. 'What on earth have you done to my dog?' he glared.  Isaias, confused by Obama's reaction, said: 'all I said to your dog was I would take him to Asmara with me!'  Obama, realising how the Eritrean president put Bo's life in danger, summoned his security people and instructed them to escort Isaias to the airport right away.
The moral of the story is not to allow Isaias to whisper in your ears.
Anon