Lampedusa mayor angered by failure to give boat disaster victims state funeral
Mayor expresses sadness that hundreds who died will get memorial service in Sicily instead of funeral promised by PM The mayor of Lampedusa has said she is "extremely saddened" by the Italian government's failure to hold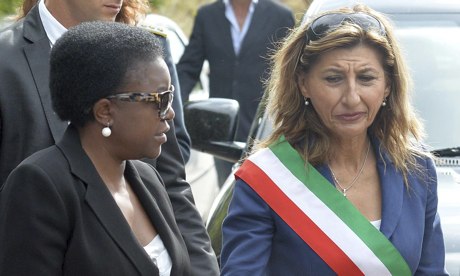 Mayor expresses sadness that hundreds who died will get memorial service in Sicily instead of funeral promised by PM
The mayor of Lampedusa has said she is "extremely saddened" by the Italian government's failure to hold a state funeral for the hundreds of Eritreans who died at sea off the island's coast earlier this month.
"I am extremely saddened that this commemoration, even though it is belated and for bodies which have already been buried, is not being held in Lampedusa," the island's mayor, Giusi Nicolini, told La Repubblica, saying she would not be attending Monday's ceremony as she had an appointment in Rome with the Italian president.
"My community does not deserve to not be involved and to be made to fit in with a decision already taken. I have said it before: if they had told us they would be taking away the coffins, we would have arranged for these people to have if not state funerals at least national funerals," she added.
An interior ministry spokesman said this week the bodies needed to be buried swiftly "for sanitary reasons". The minister for integration, Cécile Kyenge, said the authorities had faced many bureaucratic and logistical difficulties in the process of identifying the dead and fulfilling their families' requests.
In the absence of a unified plan, some Sicilian locals have taken it upon themselves to give the victims a dignified farewell.
On Thursday, in the town of Valledolmo, five coffins brought to the local cemetery were met by local authorities and given a proper funeral as a sign of "human solidarity to those who were trying to flee hunger, poverty and war and find freedom".
"We are proud to give these bodies a proper burial," the mayor, Luigi Favari, was quoted as telling the local news website Si24.it.