Young residents of Calais remain unsure and afraid as demolition looms
As French authorities prepare to dismantle the camp that is home to up to 8,000 people, children and young adults are anxious about their next moves Standing near muddy puddles and tents buffeted by the wind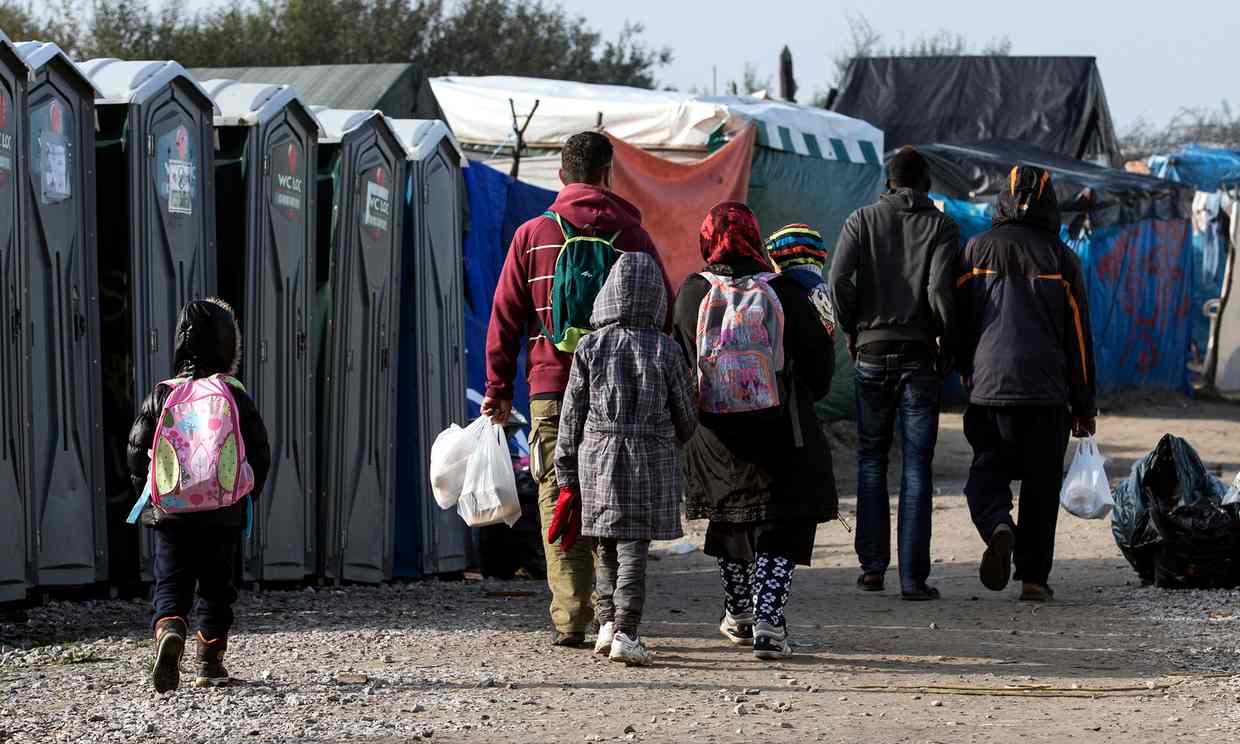 As French authorities prepare to dismantle the camp that is home to up to 8,000 people, children and young adults are anxious about their next moves
Standing near muddy puddles and tents buffeted by the wind in the squalid shantytown for refugees and migrants in Calais, Aaron, 16, from Eritrea, was frightened.
He knew that something big was about to begin in the fetid, freezing camp that for five months had served as his home. He had heard that the more than 6,000 refugees and migrants sleeping rough here – many hoping to enter the UK – were about to be rounded up by the French government this week, put onto buses and sent across France. He had heard the camp was going to be bulldozed.
But he was scared of getting on a bus and being sent across France, he wanted to get to England and he didn't know what to do.
"I just want my mum," he said. "Can't someone help me find my mum?"
The fresh-faced teenager, with just the beginnings of facial hair on his upper lip, arrived in Calais in June after a perilous journey fleeing conflict in Eritrea. Last year, his widowed mother decided to flee local violence with her only child, then aged 15. But on a trek through desert with not enough food and water, he became separated from his mother and had not been able to find her. All he knew was that she wanted them to get to England. So he continued on alone to Libya and then to Italy by boat, where he saw "many, many people" drown.
"I have to get to England," he said. "That's where my mother was going and it's my only hope of finding her. At night I have such bad nightmares. I just want to find my mum."
He had no other family in England and had spent time in the camp improving his English and doing art projects with volunteers. "I've heard the schools are good in England. I speak English, I want to go to school, I want to learn."
With other teenagers, he had been trying at night to jump on the backs of lorries and stow away, but the French police always pulled him out, "hitting me or teargassing me".
The operation to raze the notorious Calais refugee and migrant camp to the ground begins on Monday and will last at least a week. French authorities first want the UK to take as many as possible of the more than 1,000 lone children living in dangerous conditions in the camp. Then a total of between 6,000 and 8,000 refugees and migrants in the camp will be gradually ushered to a vast hangar nearby. They will be given the choice of two different regions in France, then they will be placed into four separate queues – adults, unaccompanied minors, families and vulnerable people – to wait for the coaches that will drive them to processing accommodation centres across towns and villages in France.
But the demolition of the sprawling Calais camp – which sprang up last year after police deliberately moved people from squats across Calais onto one piece of wasteland – is unlikely to permanently resolve the 20-year-old problem of migrants stranded in France trying to reach Britain. Local French aid groups said they believed hundreds of people had already left the camp and could be sleeping rough across the north coast.
Aid workers said squats would spring up elsewhere in Calais as some migrants still tried to reach the UK. Elsewhere in France, although many volunteer groups have helped refugees, the right and far-right have championed a "not in my village" movement in recent weeks to protest against migrants and refugees from Calais being housed in small centres in towns dotted around the country. In two places, shots were fired from hunting rifles at the windows of the centres preparing to open.
"I'll be happy to take the bus out of here," said Bache Afghan, 22, an aspiring medical student who had been living in the Calais camp for six weeks, after fleeing violence in Afghanistan. He wanted to study to be a doctor and had applied for asylum in France. "Anywhere in France is safer than what I've fled in Afghanistan, and it can't be worse than this camp," he said.
He had been sleeping in two sleeping bags against the cold, often soaked with rain and sometimes woken by teargas in his tent from police trying to stop potential stowaways running out onto the motorway nearby.
He could not believe he might be given a bed in a French processing accommodation centre. "It would be the first time I've slept in a bed for more than a year.…"
With bare feet poking out of broken shoes that were too small, he had no possessions to pack and no bag. "A charity worker said she might be able to give me a bag – I'll just put my asylum papers in it. I don't possess anything else, not even a pair of socks."
Imran, 19, also from Afghanistan, had a cousin who worked in a supermaket in Birmingham. "I always wanted to get to England to join him. Every night I try to get on a truck, but it's almost impossible. I might stay around Calais to keep trying, or I might give up and stay in France, I just don't know what to do."
Walking through the camp, a 20-year-old single woman from Ethiopia, who had family in London, said she would stay around Calais: "All I want is to get to England. I'm not scared any more. I can't go home. I have seen so many frightening things, people die, that I'll just keep going, unafraid."
Some names have been changed
The Guardian