UK based Eritreans will expose human rights violations taking place in Eritrea to the Commission of Inquiry into Human Rights
Eritreans in the UK have asserted their readiness to expose violations of human rights taking place in Eritrea, during public meetings organised by a consortium of Eritrean human rights organisations. As part of its activities aimed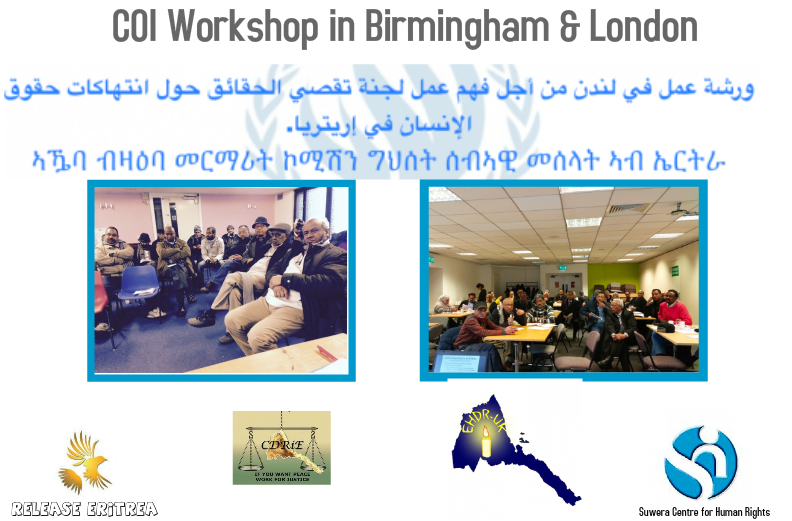 Eritreans in the UK have asserted their readiness to expose violations of human rights taking place in Eritrea, during public meetings organised by a consortium of Eritrean human rights organisations.
As part of its activities aimed at promoting a better understanding of the United a Nation's Commission of Inquiry on the situation of Human Rights in Eritrea and in anticipation of the Commission's visit to the United Kingdom, a consortium of Eritrean Human Rights organisations held public meetings in Birmingham and London on Saturday 17th and Sunday 18th January 2015 respectively. Members of the consortium gave detailed explanation of the operational process of the Commission's work, its mandate and objectives. They also called on members of the Eritrean community in the UK to come forward and provide the Commission with their evidence, testimony or information about human rights violations in Eritrea.
Participants of the workshop affirmed their commitment to work with the organisations by volunteering to be interviewed by the Commission's investigation officers and mobilise fellow Eritreans within their networks to do the same.
Members of the Commission and the accompanying investigation team will be in the UK between 24 and 31 January 2015.
The consortium of UK based human rights organisations organising this event comprised: Eritreans for Human and Democratic Rights – UK (EHDR – UK), Citizens for Democratic Rights in Eritrea (CDRiE), Release Eritrea and Suwera Human Rights Centre (SHRC).
Any person wishing to obtain further information or schedule an appointment to give evidence can contact the Commission directly at the following email address:  coieritrea@ohchr.org .
Further information about the Commission can be obtained from their website:
http://www.ohchr.org/EN/HRBodies/HRC/CoIEritrea/Pages/commissioninquiryonhrinEritrea.aspx