Trade in human organs draws Eritrean protest
By Tony Garner A fifty-strong contingent of Scotland's Eritrean community assembled in Glasgow city centre yesterday (Saturday 10 December) in a bid to win the attention of Scottish and UK politicians who they believe could contribute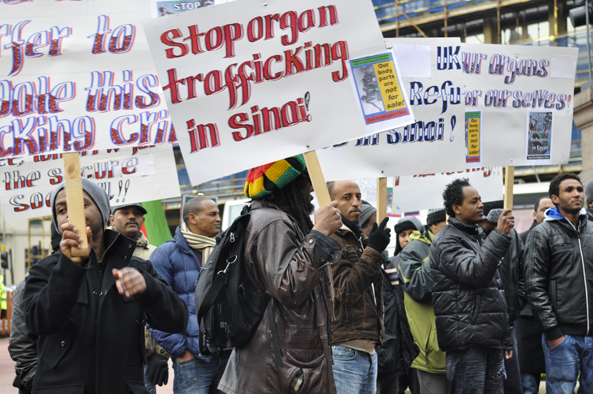 By Tony Garner
A fifty-strong contingent of Scotland's Eritrean community assembled in Glasgow city centre yesterday (Saturday 10 December) in a bid to win the attention of Scottish and UK politicians who they believe could contribute to ending the dark trade in human organs centred in Egypt's Sinai desert; a trade whose primary victims are Eritrean refugees trying to reach Europe.
'Our objective is to tell the international community to intervene to stop this crime,' said Teklom, an Eritrean who now lives in Glasgow. 'The Scottish government, and the UK government as well – the more pressure the better. We're really shocked by this crime. We're here to be a voice of the voiceless people.'
Teklom and the other Eritreans at Saturday's protest are the lucky ones – they have made it to Europe without falling into the hands of the traffickers who harvest organs which are eventually sold for use in transplants in richer countries.
Eritrea is a nation of just over five million people in the Horn of Africa. It broke away from its southern neighbour Ethiopia in 1993 after a prolonged conflict. Hundreds of thousands of Eritreans have fled since independence, often citing an oppressive regime which forces young men into lifelong military servitude and permits no freedom of expression, a situation which saw Eritrea ranked bottom of the most recent World Press Freedom Index below even North Korea.
In 2008 when the World Cross Country Championships were held in Edinburgh, six members of the Eritrean team refused to return home, managing to make successful asylum claims to stay in Scotland.
For most the option to fly to Europe does not exist. Instead they have to pay people smugglers to get them through the deserts of North Africa. Until a few years ago the most common route was east through Sudan and Libya, from where they would try to make it to the Italian island of Lampedusa by boat. Since Italian government crackdowns and the conflict in Libya, the more favoured option has been north through Sudan and Egypt, then across the deserts of Sinai into Israel.
The Bedouin-controlled waste of Sinai is where the harvesting of organs happens. Bedouin tribesmen trick the refugees into believing they will be shown a safe route across the border. For this they pay 2,000 to 3,000 dollars, but far from being helped to a safe passage they are then sold on into the hands of traffickers with links to organised crime. These groups demand ransoms of up to 30,000 dollars from relatives of the refugees back in Eritrea, Sudan, or Ethiopia. If the family fails to produce the money then the hostage's organs are harvested as payment. Death almost always follows – a recent CNN documentary showed gruesome footage of bodies being uncovered from shallow graves in the desert with gaping holes where their organs should be.
The footage has shocked Eritrean diaspora communities around the world. Last month saw a demonstration in Tel Aviv in Israel, while yesterday's protest in Glasgow coincided with a larger gathering of US-based Eritrean emigres in front of the White House. The demonstrations on both sides of the Atlantic were designed to coincide with World Human Rights Day. Eritreans like Teklom want the international community to exert pressure to force the Egyptian authorities to police the Sinai more effectively.
But the issue is complicated by several factors. Aside from Egypt's current political instability, Eritrea's President Isaias Afewerki has shown little inclination to fight on his own people's behalf.
Some of the demonstrators in Glasgow yesterday expressed anger against the man who has ruled Eritrea since independence, arguing that he has failed to even acknowledge the victims of organ harvesting.
'He says they are not Eritrean,' said Yohans, an Eritrean pastor in Glasgow. 'It's strange – they show him the names, the passports, but no… It's because he knows what is happening but he's covering up. Because if he says "yes, this is our people", then everyone will know what is happening in Eritrea.'
Another man, Hassan, agreed: 'The root of the problem is the Eritrean government. If the people were living well there, then they would never go to this kind of risk to escape. This is my personal view, but the organisers today come with their own view, that it's better not to speak about this. There are so many people here who are panicked to talk about the Eritrean government.'
Agostino Desta, an ex-fighter in Eritrea's independence movement who has lived in Scotland for 21 years and bitterly opposes President Afewerki's rule, said the Eritrean community in Scotland, as in the rest of the UK, were divided in their attitudes to the regime: 'There are some who are pro-government, some who are anti-government, and some who want to hide because they are too scared to speak. Today was a step forward. We got them to come out. Even if they didn't talk about politics… it's a step forward.'
Organ harvesting in Sinai: the facts
Research was conducted by two human rights groups: the Egypt-based New Generation Foundation for Human Rights and the EveryOne Group based in Italy.
Evidence included testimony from refugees in Israel who survived the journey through Sinai, as well as the bodies of victims.
Torture and rape were also reported by the hostages
Both New Generation and the EveryOne group reported that more than 600 hostages were released by the traffickers last month after the publicity created by the documentary.
Links:
An article about CNN's documentary:
http://cnnpressroom.blogs.cnn.com/2011/11/03/death-in-the-desert-a-cnn-freedom-project-documentary/?iref=allsearch
An article on the London-based Eritrean diaspora website 'Assenna', featuring footage of the victims of organ harvesting:
http://demo.archive.assenna.com/shoking-video-of-refugee-victims-from-sinai/
The list of countries in the most recent (2010) Reporters Without Borders World Press Freedom Index, in which Eritrea was placed bottom:
http://en.rsf.org/press-freedom-index-2010,1034.html
More Photos:
Photos by Eva Barton
Click on this Link To Read articles by Tony Garner