Toll from Mogadishu national theatre bombing rises
Reporters Without Borders has learned from its sources that two other journalists were injured in yesterday's suicide bombing in Mogadishu while the Committee to Protect Journalists has named two additional media people as having sustained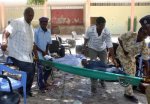 Reporters Without Borders has learned from its sources that two other journalists were injured in yesterday's suicide bombing in Mogadishu while the Committee to Protect Journalists has named two additional media people as having sustained injuries. This brings the number of journalists injured in the bombing in the national theatre to 11.
At least five of these journalists sustained serious injuries and were taken to Mogadishu's Madina Hospital.
The nine journalists identified by Reporters Without Borders:
Mohamed Shariif of radio Bar-Kulan
Ahmed Ali Kahiye of Radio Kulmiye. He is still unconscious after undergoing an operation to the kidneys and stomach to stop internal bleeding.
Ayaan Abdullahi Guure (Ayaan Abdi) of Somalia 24 TV. She sustained head and leg injuries.
Deeqo Mohamed Ahmed of Radio Mogadishu. She sustained multiple head injuries.
Hamdi Mohammed Hassan Hiis of Somali Channel TV. She sustained head and leg injuries.
Said Shire Warsame of Shabelle TV. He is in a critical condition as a result of burns all over his body and is having difficulty breathing.
Mulki Hassan Hayle, a woman journalist with Royal TV.
Mikail Hassan Ali of Somali national television.
Abdulkadir Mohamed Hassan of Somali national television.
The Committee to Protect Journalists said Suleiman Sheikh Ismail, a freelance journalist, and Abdi Hajj, a former reporter, were also among the injured.
Reporters Without Borders is following developments closely and is ready to provide medical and financial assistance to the victims.
The Islamist militia Al-Shabaab has not claimed direct responsibility for the bombing but a spokesman, Sheikh Ali Mohamed Rage, said it was carried out by a female supporter of Al-Shabaab.
Photos : Somali journalists wounded (Yusuf Keynan)