The Story of Woldeab Woldemariam – Assenna.com Commentary
There are very few Eritreans who went through the various periods of Eritrean history - Italian colonial period, British Military Administration, federation, liberation struggle and post-independence; one of them is an elder by the name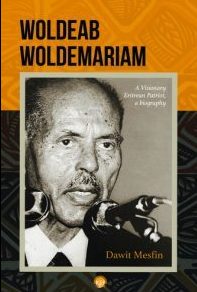 There are very few Eritreans who went through the various periods of Eritrean history – Italian colonial period, British Military Administration, federation, liberation struggle and post-independence; one of them is an elder by the name of Woldeab Woldemariam who passed away on 16 May 1995.  Unfortunately, abona Woldeab Woldemariam's history, in spite of his popularity, died with him. Apart from some superficial accounts given by the powers that be, many Eritrean researchers believe that his contributions did not achieve a proper structure and process.  Although seven attempts were made on his life prior and after the federation era (for standing up to federating, and later annexing Eritrea to Ethiopia), he remains absent from Eritrean history books.  In spite of spending all his life campaigning for the independence of Eritrea, surprisingly, there is no account of his accomplishments.  Why? Was he merely a myth or a true Eritrean hero?
Denying Eritreans a solid grounding in the history of their country is calculated to produce a generation of passive citizens that could easily be misled by the political masters. Therefore, to follow Mr Woldemariam's journey is believed to be an essential account that enables the public to study, appraise and challenge other versions that have been floating around.  To go further, to learn the history of Woldeab Woldemariam is to grasp the grand tapestry of Eritrean creativity and tragedy, to see both commonalities and differences among its ethnically, religiously and geographically divided population, to trace both continuities and changes from liberation struggle to post-independence era, and thus to identify how past and future journeys crisscross.
Once again, a proper understanding of Eritrean history, not history written by the victorious faction, is likely to prompt the public to ask relevant questions about their existence.  Therefore, it is worth researching whether Woldeab's story is an authentic story of heroism.
Dawit Mesfin finally finished his account of abona Woldeab Woldemariam and the book has just been published. It is believed the account will shed light on the issues raised above. In his most recent article posted at Awate.com, Dawit stated:
Although my primary objective is to evoke a picture of Eritrea via the story of a unique individual set in an era prior to the armed struggle, I came to realize the portrayal of Woldeab Woldemariam's story would only cover certain aspects of the history of Eritrea. It does not do justice to those aspects shaped by Sheik Ibrahim Sultan, Tessema Asberom, Abdulkadir Kebire and others.  And then there are those who opposed Woldeab and his fellow campaigners of the Eritrea-for-Eritreans campaign. But they own the other side of the story. This is Woldeab's.
Dawit is of the belief that Eritrea's past is not adequately researched; therefore, he argues that present day beliefs and assumptions are likely to be distorted because of their one-sided approach to facts.  Even within the limits imposed by the current Eritrean political environment, the country's history should not be distorted by fraud, narrow nationalism, evident prejudice, or simple errors.  Actually, one can argue that the awareness of today's Eritrea and the capacity of its historians in dealing with its problems intelligibly depend not only on what is known, but also on what is not known.
Aboy Woldeab is believed to possess perceptive insights into the human condition. However, the public know very little of what he was really like.  That is where this new book comes in.  What did aboy Woldeab think of the direction the armed struggle was heading? Why was he so quiet for many years? Was he, perhaps, forced to wear a straitjacket of sorts in his later years?
The book can be purchased from africaworldpressbooks.com for now.  It will also be available at Amazon US and UK in the coming days.