The silent death of Eritreanzm
The silent death of Eritreanzm My fellow Eritreans. I write this with a great pain, and a heavy heart. It is especially pain full, because it is the time where we Commemorates our martyrs who sacrificed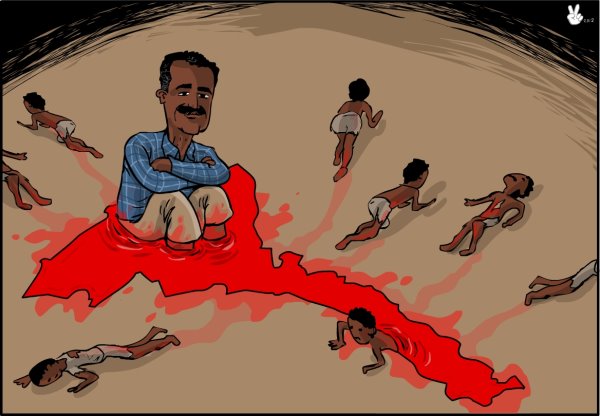 The silent death of Eritreanzm
My fellow Eritreans. I write this with a great pain, and a heavy heart. It is especially pain full, because it is the time where we Commemorates our martyrs who sacrificed their life to liberate Eritrea so we can live in peace in our country where it is govern by the rule of low,  democracy, and justice for all. They have done their job. Are we doing ours? The reality is DIA is single handedly killing Eritrenezm every day.  He has destroyed the country, the economy, military, and the people. He is working to empty Eritrea from Eritreans, and fill it with Ethiopians. Just like what the late Imperial Haeleselase once sad. Every day he is tightening the robes on the Eritrean necks. There is no employment in Eritrea. He is intentionally depriving them of clean water. Cutting electric supply continually. To me he is racing with time to finish the job that he started 28 years ago. Ladies, and gentle man, weather we understand it or not, we are watching the death of our beloved country, as we know it. What is taking place in Eritrea today is ethnic cleansing from DIA'S perspective. He believes Eritrea is part of Ethiopia. In order to make that happens; he needs to wipe out Eritreans. According an historian George J. Andereopoulos," Ethnic cleansing is the attempt to create ethnically homogeneous geographic areas through the deportation or forcible displacement of persons belonging to particular ethnic groups." This is the time for us to bring this evil attempt to the attention of the international community. I am encouraged by the Yeakel movement, and I am hopeful it will go to the next level. However, I am not confident that our defense force or people in Eritrea will be able to overthrow DIA. Not for luck of desire, but due to the systematic mistrust he created amongst them, and the fear he installed in them. However, those of us who live in diaspora should be scramming bloody murder, as if our own house is on fire. It is frustrating to think a country, which come about through a sacrifice of over 65,000, can be destroyed, and sold out by a few traitors.
Let us take the opportunity of June 20th to make a commitment to take our country back, and create a new independent, secure, and prosperous Eritrea.
Our heroes will never be forgotten. Their legacy will live forever!
Peace and Justice for the Eritrean people!
Warsaye Adhanom