Sunridge Gold's Asmara Project, Eritrea – Feasibility Study on Schedule
VANCOUVER, British Columbia, Apr 10, 2013 (BUSINESS WIRE) -- Sunridge Gold Corp. (the "Company") (sgc:TSX.V/SGCNF) is pleased to announce that the Asmara Project Feasibility Study (the "Study") is on schedule for completion as planned in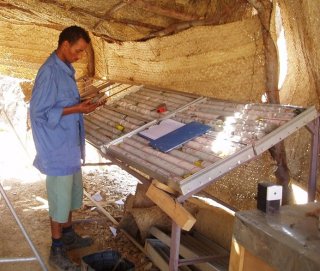 VANCOUVER, British Columbia, Apr 10, 2013 (BUSINESS WIRE) — Sunridge Gold Corp. (the "Company") (sgc:TSX.V/SGCNF) is pleased to announce that the Asmara Project Feasibility Study (the "Study") is on schedule for completion as planned in early May. The Study is being conducted by lead engineer Senet (Pty) Ltd. on four of the five deposits that comprise the Asmara Project and will outline a mining plan that integrates the four deposits being processed at a central concentrator near the large Emba Derho copper-zinc-gold-silver deposit. Furthermore, in order to achieve early cash flow and minimize initial capital costs the Study will include a staged start-up process over the first 3 years of the mine life. A positive prefeasibility study ("PFS") for the Asmara Project was completed in May 2012.
Variations to the PFS – Staged Start Up
The Asmara Project Feasibility Study will have improvements over the PFS mining plan including a staged start-up as follows:
— Phase 1A: DSO production – Mine by open-pit, crush, ship and sell high-grade copper and gold material as "direct shipping ore" ("DSO") material from the supergene copper zone at Debarwa over a 10 to 12 month period; this zone contains 116,000 tonnes at 16.0 % copper, 3.0 g/t gold, and 77.0 g/t silver;
— Phase 1B: Gold production – Gold heap-leach process plant at Emba Derho to recover gold and silver from the near surface 'gold caps' at Emba Derho and Debarwa as well as the gold-only Gupo deposit over a period of 36 to 48 months;
— Phase 2: Copper production – Mine and process 2.4 million tonnes of high-grade copper supergene ore (less the DSO zone) at a rate of 5,500 tonnes per day (2 million tonnes per year) from Debarwa and Emba Derho for 15 months at the same time as Phase 1B is in production; and
— Phase 3: Copper and zinc production – Mine and process primary copper and zinc ore at full production from Emba Derho, Debarwa and Adi Nefas at a rate of 11,000 tonnes per day (4 million tonnes per year) for 13 to 15 years.
The Asmara Project PFS showed that the mine would produce a total of 365,000 tonnes of copper, 812,000 tonnes of zinc, 415,000 ounces of gold and 11 million ounces of silver over an approximate 15 year mine life. The Emba Derho, Debarwa and Gupo deposits will be mined by open-pit methods and the Adi Nefas deposit by underground mining methods.
ENAMCO
Negotiations continue with the Eritrean National Mining Corporation ("ENAMCO") for ENAMCO's purchase of a 30% working interest in the Asmara Project. On completion of the purchase, ENAMCO will have a 10% carried interest and a 30% working interest and will be responsible for funding one-third of the costs of all operations conducted on the Asmara Project, which may include a portion of the Study.
About Sunridge
Sunridge currently has approximately 175 million shares outstanding and trades on the TSX Venture Exchange under the symbol SGC and the OTCQX marketplace under the symbol SGCNF. For additional information on the Company and its projects please view the slide show on the company website at www.sunridgegold.com or call Greg Davis at the numbers listed below.
Mr. Michael J. Hopley is the Qualified Person who approved the technical information contained in this news release.


        SUNRIDGE GOLD CORP.
        "Michael Hopley"    For further information contact:
        Michael Hopley, President and Chief Executive Officer                    Greg Davis, VP Business Development
                                                                                 Email: greg@sunridgegold.com
                                                                                 Tel: 604-688-1263 (direct)
Neither the TSX Venture Exchange nor its Regulation Services Provider (as that term is defined in the policies of the TSX Venture Exchange) accepts responsibility for the adequacy or accuracy of this release.
This news release contains forward-looking statements that are based on the Company's current expectations and estimates. Forward-looking statements are frequently characterized by words such as "plan", "expect", "project", "intend", "believe", "anticipate", "estimate", "suggest", "indicate" and other similar words or statements that certain events or conditions "may" or "will" occur. Such forward-looking statements involve known and unknown risks, uncertainties and other factors that could cause actual events or results to differ materially from estimated or anticipated events or results implied or expressed in such forward-looking statements. Such factors include, among others: the actual results of current exploration activities; conclusions of economic evaluations; changes in project parameters as plans continue to be refined; possible variations in ore grade or recovery rates; accidents, labor disputes and other risks of the mining industry; delays in negotiating a shareholders' agreement with ENAMCO and obtaining governmental approvals or financing; and fluctuations in metal prices. There may be other factors that cause actions, events or results not to be as anticipated, estimated or intended. Any forward-looking statement speaks only as of the date on which it is made and, except as may be required by applicable securities laws, the Company disclaims any intent or obligation to update any forward-looking statement, whether as a result of new information, future events or results or otherwise. Forward-looking statements are not guarantees of future performance and accordingly undue reliance should not be put on such statements due to the inherent uncertainty therein.
http://cts.businesswire.com/ct/CT?id=bwnews&sty=20130410005399r1&sid=cmtx4&distro=nx
SOURCE: Sunridge Gold Corp.