Sudan's Bashir concludes lightning visit to Eritrea
February 2, 2013 (KHARTOUM) – The Sudanese president Omer Hassan al-Bashir returned home on Saturday from Eritrea where he held talks with president Isaias Afewerki. The state minister in the foreign affairs ministry Salah Wansi said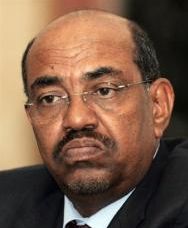 February 2, 2013 (KHARTOUM) – The Sudanese president Omer Hassan al-Bashir returned home on Saturday from Eritrea where he held talks with president Isaias Afewerki.
The state minister in the foreign affairs ministry Salah Wansi said that Bashir discussed recent developments in Eritrea following a move by dissident soldiers last month who briefly seized the information ministry in Asmara.
The two leaders also tackled bilateral ties on the political, economic and security fronts, Wansi added.
Bashir was accompanied in his previously unannounced visit by presidential affairs minister Bakri Hassan Saleh, intelligence director Mohamed Atta al-Moula Abbas and other officials.
(ST)