South Sudan army 'recaptures key town of Bor'
South Sudan's President Salva Kiir says his forces have recaptured the key town of Bor, days after it was seized by rebels in a week-long conflict. Forces loyal to Mr Kiir's ex-deputy Riek Machar were "on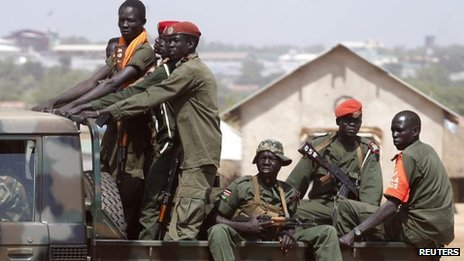 South Sudan's President Salva Kiir says his forces have recaptured the key town of Bor, days after it was seized by rebels in a week-long conflict.
Forces loyal to Mr Kiir's ex-deputy Riek Machar were "on the run", the information minister said. The rebels have not commented on the claim.
There has been a week of fighting amid a struggle between Mr Kiir, an ethnic Dinka, and Mr Machar, of the Nuer.
The UN earlier said that it had reports of at least three mass graves.
One was in Bentiu in the north, and two in the capital, Juba.
It said there was "palpable fear" among civilians that they would be killed for their ethnicity.
'Back in control'
President Kiir told journalists in Juba: "Forces loyal to the government have taken Bor and are now clearing whatever forces that are remaining there."
Information Minister Michael Makwei told Agence France Presse: "The army captured Bor around sunset and the rebel forces are now on the run… We are back in control."
UN special representative for South Sudan, Hilde Johnson, said the UN could not confirm the claims but said it did appear government forces were in control of at least some parts of the town.
Bor, 200km (125 miles) north of Juba, had been one of the major successes for the rebels. They are believed to still be in control of Bentiu, capital of the oil-producing Unity State.
Some 17,000 civilians had sought refuge in a UN camp in Bor after the rebels took over.
UN officials say at least 80,000 people have been displaced by the South Sudan crisis – about half of them seeking shelter at a number of UN bases.
Radio Tamazuj said government troops of the Sudan People's Liberation Army had launched attacks on positions held by Nuer commander and army defector Peter Gadet on Tuesday afternoon in Bor.
Some reports said there was still fighting near the airport, and Mr Makwei also said that "shooting continued".
Mr Kiir said there was also fighting in the town of Malakal and that his troops were "ready to capture Bentiu".
Earlier, UN High Commissioner for Human Rights Navi Pillay said: "There is a palpable fear among civilians of both Dinka and Nuer backgrounds that they will be killed on the basis of their ethnicity."
UNHCR spokesperson Ravina Shamdasani said a UN official had seen 14 bodies in a mass grave in Bentiu and another 20 at a riverside nearby.
But she said 75 SPLA soldiers, all Dinka, were unaccounted for there and were feared dead.
The other two reported mass grave sites are at Jebel-Kujur and Newside, near Eden, in Juba.
President Kiir and Mr Machar have both said they are willing to talk.
However, Mr Machar has said his detained political allies must first be freed, while Mr Kiir says there should be no preconditions.
Mr Machar told Radio France Internationale he had spoken to US Secretary of State John Kerry on Tuesday. Mr Machar said he had formed a delegation for talks and that they would probably be held in Ethiopia.
He said: "We want a democratic nation. We want democratic free and fair elections. We want Salva Kiir to call it a day."
Mr Kiir has accused Mr Machar, who he sacked in July, of plotting a coup. Mr Machar denies he is trying to seize power.
The official death toll in the week of fighting stands at 500, but the figure may be much higher.
UN Secretary General Ban Ki-moon has called for an increase in the UN's peacekeepers from 6,800 to about 11,800. A Security Council vote on the resolution is expected later on Tuesday.
Sudan suffered a 22-year civil war that left more than a million people dead before the South became independent in 2011.
Source: BBC