Sisi of Egypt welcomes Eritrean counterpart at presidential palace
CAIRO – 9 January 2018: President Abdel Fatah al-Sisi welcomed Tuesday morning his Eritrean Counterpart Isaias Afwerki at the presidential palace in Cairo, where the latter is visiting the country to discuss bilateral relations. Meeting for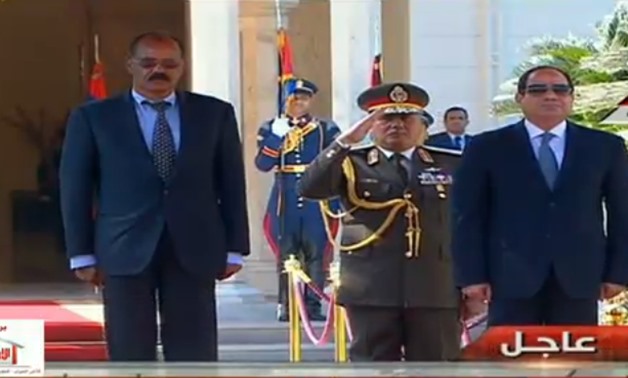 CAIRO – 9 January 2018: President Abdel Fatah al-Sisi welcomed Tuesday morning his Eritrean Counterpart Isaias Afwerki at the presidential palace in Cairo, where the latter is visiting the country to discuss bilateral relations.
Meeting for the third time in Cairo, both leaders are scheduled to hold a close meeting together at the Ittihadiya Palace to talk developments in the Nile Basin countries and the Horn of Africa region in eastern Africa.
The welcoming ceremony of the Eritrean president saw the presence of the Egyptian guard of honor, while the two national anthems of both countries were played at the background.
Source: Egypt today
Subscribe ASSENNA YouTube to get Radio Assenna shows on time: