Radio journalist gunned down in central city
Reporters Without Borders has learned that MahadSalad Adan, the editor-in-chief of radio Voice of Hiran, was murdered this afternoon in Beledweyn, thecapital of the central region of Hiran. His death comes a day after a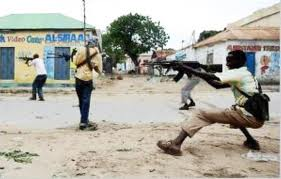 Reporters Without Borders has learned that MahadSalad Adan, the editor-in-chief of radio Voice of Hiran, was murdered this afternoon in Beledweyn, thecapital of the central region of Hiran. His death comes a day after a suicidebombing in Mogadishu that left many dead and wounded, including 11 journalists.
"Somalia isstill under the shock of yesterday's tragedy in Mogadishu's national theatreand now it is again the victim of a barbaric act," Reporters Without Borderssaid. "Adan is the fourth journalist to be murdered in Somalia since the startof the year. Our thoughts are with his family and colleagues and the country'sentire media community, which keeps on sustaining losses."
Aged 22,Adan was also a reporter for Mogadishu-based Radio Shabelle. He was gunned down near his home in Beledweyn's Sigalow district. Transitional Federal Government forces said he was murdered by a member of the Islamist Al-Shabaab militia who was in turn shot dead by agovernment soldier as he was trying to escape.
Radio Shabelle said that, shortly beforehis death, Adan has covered a dispute between Al-Shabaab and another islamist militiacalled Ahlu Sunah Waljama.