Press Release: The Joint Transitional Leadership for the merger of:- #Eritreans for Facilitating National Dialogue-EFND and Eritrean Global Solidarity- EGS
Twenty-six years after Eritrea achieved its independence and gained its sovereignty, the Eritrean people find themselves denied their God-given freedom. Independent Eritrea has become the home to the enslaved Eritreans in general, and the younger generation of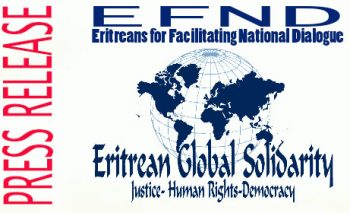 Twenty-six years after Eritrea achieved its independence and gained its sovereignty, the Eritrean
people find themselves denied their God-given freedom. Independent Eritrea has become the home to
the enslaved Eritreans in general, and the younger generation of Eritrea in particular.
Twenty-six years after Eritrea's independence, the centralized power of PFDJ in Eritrea is not
governed by legal and constitutional instruments of legality. Lawlessness rules in Eritrea. The
practices of the Eritrean government are totally criminal. The Eritrean officials thrive in criminal activities.
They use deception, lies, misinformation, and extensive networks of corruption to agonize and
torment the Eritrean people. Making life in Eritrea miserable, fearful, and endlessly stressful is
the structured task of the PFDJ regime. Advocating for human rights in Eritrea is considered a
crime by a regime that prides itself as standing against advocates for democracy.
Twenty-six years after Eritrea achieved its sovereignty, the Eritrean people find themselves
subjected to a wholesale collective punishment. Eritreans, young and old, men and women, are
deprived of freedom of speech, freedom of assembly, freedom of movement, and freedom of
expression.   The   youth of Eritrea who were hoped   to continue the heroic legacies of their
"Yekaalo"   fathers   find   themselves   enslaved   by   PFDJ   at   labor   camps   doing   the   Eritrean
landscape. Thousands of Eritrean youths flee the labor camps to escape enslavement. Scores
are shot by PFDJ border guards under instruction to shoot and kill. Young Eritrean boys and girls,
the hope and bastions of Eritrea's future, are driven away from their land attempting to escape
the hellish treatment under PFDJ rule. As they escape to distant lands, Eritrean youths find
themselves exposed to predators, killers, kidnappers, and enslavers.
Twenty-six years since Eritrea's independence and sovereignty, the Eritrean family is destroyed,
destitute, and in endless sorrow. There is no happiness, there is no hope, and there is no help in
Eritrea.
Twenty-six years after Eritrea gained its independence and sovereignty, the Eritrean people
remain enslaved at home and helpless, homeless, and hopeless refugees at all corners of the
world. After Eritrea gained its sovereignty, Eritrea is sovereign, but the Eritrean people are not
free. They are being subjected to endless human rights abuses of unprecedented magnitude.
A Call for Unity and Action:
While we are celebrating our independence, and honoring the selfless sacrifices of our fallen
heroes and heroines, as citizens, it is our responsibility to get actively involved. It is our duty to
stand up and be united as a common front condemning the crime against humanity in our
country, Eritrea. We urgently need to mount a concentrated effort to bring justice, democracy,
and peace to our nation and our longsuffering people.
EFND & EGS Transition Team
May 24, 2017