PRESS RELEASE – Brussels Conference, 12-14 December, 2018
PRESS RELEASE "We the People: Peace in the Horn & the Safety and Future of the Eritrean People." Brussels Conference, 12-14 December, 2018   Evacuate Eritrean refugees from Libya death camps – Diaspora conference calls on EU Contact:+ 32 (0)476 761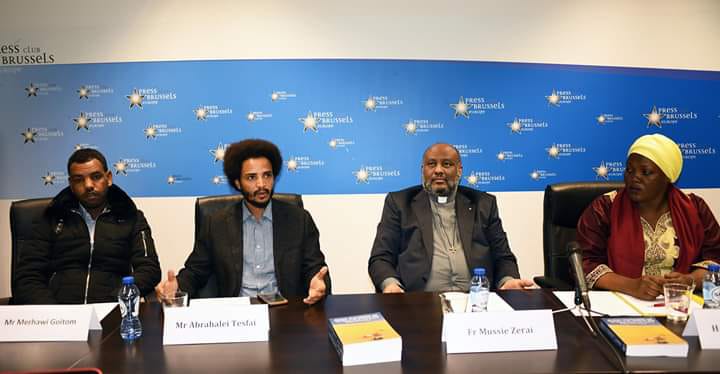 PRESS RELEASE
"We the People:
Peace in the Horn & the Safety and Future of the Eritrean People."
Brussels Conference, 12-14 December, 2018
Evacuate Eritrean refugees from Libya death camps – Diaspora conference calls on EU
Contact:+ 32 (0)476 761 943  /+32 (0) 465 516342
Facebook.com/asmara.eritrea.50702, @EritreaPress, #ChangeinEritrea
Email: Ertireapress@gmail.com
Press release also available in Tigrinya, Arabic and French from Facebook.com/asmara.eritrea.50702,
(Brussels, 13 December) As European Union leaders present their bid for a responsible common migration policy, a conference of over 200 members and spokespersons of the Eritrean diaspora on the old continent taking place this week in Brussels calls for the evacuation and resettlement of Eritrean refugees from Libya and their protection.
Despite the rapprochement between Eritrea and Ethiopia there are no changes in Eritrea as serious human right violations continue and Eritreans as a consequence continue to flee. Indeed, human trafficking of Eritrean refugees is still increasing. Thousands of Eritrean refugees perish at the hands of human traffickers in Libya, often held hostage for ransom, while thousands of euros are collected by the diaspora to free them.
Abrahalei Tesfai, a spokesperson for Eritreans who passed through Libya and now lives in in Italy, continues to receive desperate calls from Eritreans about the situation of their relatives left without any hope in Libya: "I have seen horrific footage from Libya, of emaciated Eritrean refugees, starved, denied medical care, tortured, repeatedly abducted and held for ransom for thousands of euros. They must be evacuated immediately." Roughly ten thousand Eritrean refugees are languishing in camps in Libya.
Eritreans continue to flee their country in record numbers, crossing the border to Ethiopia. According to Eyob Ghilazghy, a prominent journalist and human rights campaigner, Eritreans are crossing into Ethiopia and seeking asylum at the rate of 350 to 600 per day. Ghilazghy notices that Eritrean refugees are continuously reporting, "The situation in Eritrea is very dire. The indefinite national service is still fully in place and living conditions have worsened." According to UNHCR, 12 percent of the entire Eritrean population has fled the country.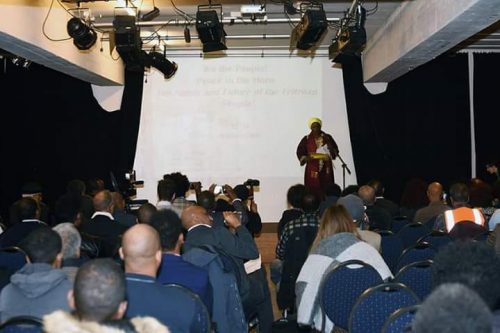 African leaders attending the Eritrean diaspora conference have expressed their concerns over the situation in Eritrea and Libya and call for better cooperation with Europe to provide protection. "Over the past two days, I have listened to many refugees, it has been shocking to hear their stories," states Chief Fortune Charumbira, the Vice-President of the Pan-African Parliament who has opened the conference this Wednesday. "Their testimonies reveal modern-day slavery in Africa. We need to do all in our power to stop modern slavery on the African continent."
As of 2019, the Eritrean government will lead an EU-financed anti-trafficking programme.The appointment is despite substantial evidence linking top-level Eritrean officials to human trafficking.
"We are concerned that to fight human trafficking, more EU funding will be approved this week, for countries such as Eritrea whose highest officials are linked to the practice," says International Relations Professor Mirjam Van Reisen of Tilburg University who describes this as: "… a cynical policy." She adds: "The EU must stop financing those benefitting from human trafficking."
Photos available from + 32 476 761 943 / + 32 465 993 703