President Afwerki AND Fear II Dedicated to our fearless hero Brigadier Colonel Sied Ali Hjay (Wedi Ali)
President Afwerki AND Fear II Dedicated to our fearless hero Brigadier Colonel Sied Ali Hjay (Wedi Ali) by Fetsum Abraham   What does a young refugee do after leaving home and reaching the lands of opportunities elsewhere passing through many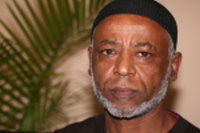 President Afwerki AND Fear II
Dedicated to our fearless hero Brigadier Colonel Sied Ali Hjay (Wedi Ali)
by Fetsum Abraham
What does a young refugee do after leaving home and reaching the lands of opportunities elsewhere passing through many obstacles in the way? What does a young Eritrean blessed to grow up in the west with the opportunity to be any thing do with his/her time? I do not think "working for a minimum wage" as ultimate goal of life is the right answer for this is becoming a voluntary victim of AFWERKISM. Neither is there an acceptable excuse for a young Eritrean immigrant to miss the opportunity of education in the west; nor can one be rationally justified to criticize the Eritrean regime for failing to educate the people without being a hypocrite. 
Attention: This is my last article on Afwerki and fear. The reason I have been dwelling on his opinion on FORTO is because I want to disclose something important about the president's psychological makeup that could have been missed in between the lines by the ordinary thinker; though I believe most people get the catch.
Quote of the moment: Spirituality generates selflessness that manifests itself by fearlessness but egoism generates selfishness that only does it by fear.
HISTORY
Ethiopia's distortion of this brother's historical account immaterial, our Folk Hero Zerai Deres represented his people's resistance against European colonialism in the face of Hitler and Mussolini in historically unprecedented heroic style.
Tegadalai Embaye: Mebrahtu G/hiwot sacrificed his life in the commando raid at Asmara Airport in 1984 that decimated the Ethiopian Air force in defense of his people from Ethiopian colonialism; in a surprising fashion to Mengistu, who gave him a decent burial in respect to his heroism.
And destiny assigned brother Wedi Ali to become the symbol of our society's consistency on the concept of freedom by breaking the silence of his voiceless people through a highly dignified sacrifice. This true Tegadalai has become the icon of Eritrean resistance that cracked the foundation of Afwerkism through selflessness; our symbol of unity against external and internal oppressors, domestic parasites and opportunists, to remain remembered by our people forever.
May ALLAH bless his soul in heaven!
******************
The president; "Entertain no worry at all, as there was – and does not exist – any reason for being apprehensive…[and] that the government of Eritrea deemed it appropriate to refrain from issuing statements on the matter in haste, as doing so was not only outside of its political culture but also would also mean "serving the ploys of [a] bankrupt enemy quarters"
AFFIRMATION THROUGH NEGATION
The president affirms his fear or apprehension by means of negating the narrative, ladies and gentlemen! Human nature affirms that a target as such cannot help being a little worried or scared because it is a dangerous situation that threatens his/her life. The impulse is an unavoidable instinctual fate of our nature that only a clinically insane person would fail to understand, a dead person cannot feel and an idealist can deny. I do not think any human being including the most enlightened ZEN Master confronts mortality without any emotion, let alone the malignantly individualist product of EGO-CENTRISM, Mr. Afwerki.

Apparently, the mouth can say anything but a person's practical life tells the real story and psychology attaches it to objective reality. I can try to convince people that I was a teenager but my gray hairs and facial wrinkles will tell them the opposite. The rest will be psychology's business to categorize me with people who suffer inferiority complex for aging.
Afwerki did not become himself by accident but by extreme fear of death, for heavens sake! Psychology defines selfishness as a cause of fear except he denies it because he considers it a weakness in the face of clear-cut evidence; his extremely tight security and extraordinarily suspicious mentality. 
Apparently, a dictator's image and reality in this regard do not walk side by side. See how the 'fearless' role models of the president ended up and that will tell you how Afwerki will face the dead end by natural and circumstantial factors beyond this articulation; should he refuse to resign soon.
Gadaffi once said "I'm not afraid of Death" in televised interview in 1981 and so did Saddam Hussein many times, but the world witnessed how they ill-substantiated the narrative: each found loaded with a gun respectively in a RAT hole and the Grave Yard. Did not their negation end up affirming the opposing character?
The president's absolute dictatorship aside, his unprovoked revelation that he was not afraid is itself the evidence that he knows he is doing something wrong and that he was afraid of the FORTO uprising, in my commonsense: why talk about fear then if it was immaterial to his state of mind? He certainly affirmed his fear through negation and this happens to be the catch in the president's psychological makeup that could have been missed in between the lines by the ordinary thinker.

Afwerki finally said "the government would release further necessary information when the appropriate time arrives", and stopped. But everybody knows that procrastinating issues without time limit has been the norm of his administration to permanently kill the truth without explanation; said appropriate time will never arrive like, for instance, in the case of the EVIDENCE on political prisoners that disappeared without trace 12 years after the promise was given because the "appropriate time has not arrived yet".
Conclusion
To rap it up; the president's reaction on FORTO uprising may not directly represent the terrified mind that he could not humanly avoid but it does, indirectly by means of confirming through negation. Fear is the cost of dictatorship like death is the destination of life. Afwerki cannot be a fearless dictator for the first time in history. The more you dictate, the more your fear intensifies. In this case, the president has been ranked in the top of the list on dictatorship for some time. Eritrea has consistently been the most oppressed nation at least 5 times in a row including in 2012, yet heading on to keep the record straight this year. How can this president be in this situation without fear?  Would not his ranking as the worst dictator in fact make him the most fearful of them all, at least theoretically?
Afwerki made a mistake bragging about his absolute fearlessness. This was what his intelligence could produce at its best in so much time for the homework. We did not invite this situation as people: It happened to us as a matter of destiny. All the unconditional support we gave him was not for him to brag on his unprovoked confrontation with the society, immaterial that Eritrea is a nation infested with selfless folk heroes and martyrs. I do not think the president can boast of his fearlessness to the likes of brother General WUCH, a real soldier that managed a lot of battles in our struggle for independence with selfless determination (excuse this hero's eventual reduction to unconditional servitude of the dictator); let alone to the legendary brother Wedi Ali who opened the door to freedom at the cost of his life?