Our Unfinished Journey – Assenna.com Editorial
When our thoughts drift back to the way things were during the revolutionary years we remember how the tegadalai gave all they had for la patria.  His homeland was the whole world to him. He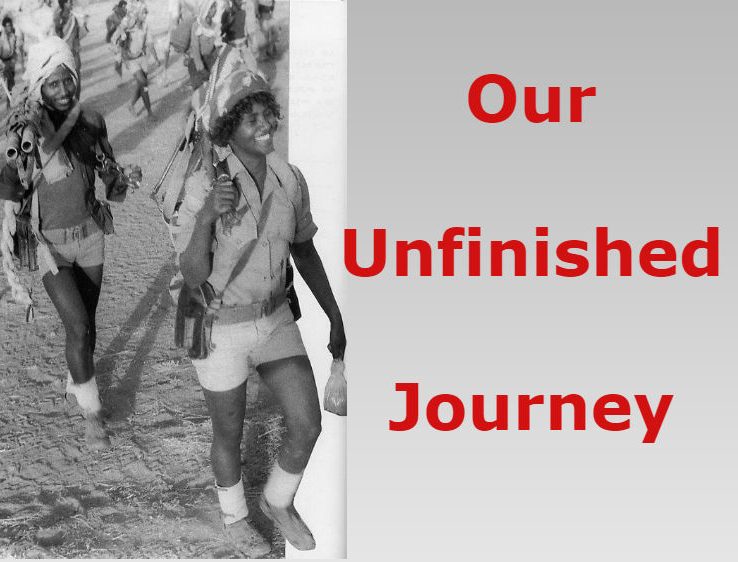 When our thoughts drift back to the way things were during the revolutionary years we remember how the tegadalai gave all they had for la patria.  His homeland was the whole world to him. He had but one thought; revolution. We all recall the stages of the successive Ethiopian offensives that took place 1978-1983, in which around 30,000 young Eritrean lives were sacrificed.  Those who survived still talk about the Red Star Campaign of 1982. Those were the days of heroism. Where is Eritrea today? How can we rekindle the memories within our  hearts, and reflect on the time that has gone by since those unforgettable years of martyrdom? Thanks to Isaias Afwerki, Eritrea is so lost! It is our prized homeland and yet so ill-fated!
We have been sold a dream that we can never live. The shadowy system that followed independence turned our dream into a nightmare. The scale of injustice that was conceived as we were busy blindly pursuing that elusive liberation has finally come home. We thought the tegadalai system, one that the president has appropriated to his own ends, would re-adjust quickly to adversity. But he hijacked the liberation agenda and left the country high and dry. "Lord, what fools these mortals be!"  The swift lurch from promises to stranglehold, took place under our very noses.  One can conclude in retrospect that our prized combatants were sent on a fool's errand while Isaias solidified his future position.
We thought Eritrea had leapt forward when the tegadelti won our independence in 1991. But who thought it would fall backwards in such a short time – making us doubt ourselves and the aims of the struggle we had so passionately supported?  Who would have thought that Isaias and his clique would be on the wrong side of history after so much had been sacrificed? Eritreans had fought so heroically during the armed struggle only to lose their way during peace time.
What should Eritreans do in this period of paranoia and division in our country?  How do we conquer the fear that has paralysed us to our core?  Can we afford to postpone fighting for the principles we believe in?
We are first and foremost Eritreans. We are passionate patriots who care about people close to us, our fellow compatriots and the cause and course of our struggle. What should we do with a president who has imposed his own wishes upon us? He has disrespected us, exploited our goodwill and pushed us to limits.  He has made a laughing stock of our struggle. Yes, he has turned Eritrea into a pariah state in our region and within the international community.
The time has come to be true to ourselves and our morals, not neutral to Eritrea's affliction. We cannot bury our heads in the sand while so much is happening to our fellow citizens. We have no option but to stand against this president who creates straw-men for the sake of self-preservation. Why should we allow him to frame our reference as if he lawfully represents us? We are neither invisible nor toothless people!
So what have we accomplished so far as we wage resistance to home-grown tyranny?  Effectively, we have: a) raised consciousness among Eritreans residing inside and outside the country that Eritrea deserves a better government; b) managed to alert the world to the abusive nature of the president; c) played a part in mobilising international institutions to take a stand against the government of Eritrea; d) influenced host nations to recognise the plight of Eritrean asylum seekers.. Those are significant accomplishments.  However, we still have a long way to go and challenging circumstances to face.
It would be dishonest to claim success in forging a harmonised campaign strategy within the opposition camp.  Hollow and vain interactions amongst us have persisted, sometimes becoming the shallow parody or faded insignia of our campaign. Unless we learn the art of respecting one another the opposition camp will remain on the periphery of the struggle.  Harmonisation is a process. And we know, theoretically, a harmonised campaign is within reach.
Our first goal should be to create positive experiences, not necessarily coalitions, as we work closely together. If we cannot avoid those strategic mistakes then circumstances will leave us to our own devices – we will be victims of our own making. We know that we have to grit our teeth and continue to expose the regime's deceptions without targeting our fellow campaigners. If we do this, the rest will come.