Medrek's current cart before the horse "politics": Advice to reverse it without delay
Part IV Medrek's current cart before the horse "politics": Advice to reverse it without delay I did criticise Medrek on few issues in my previous articles. The criticisms were partly meant to assist Medrek to seriously reconsider its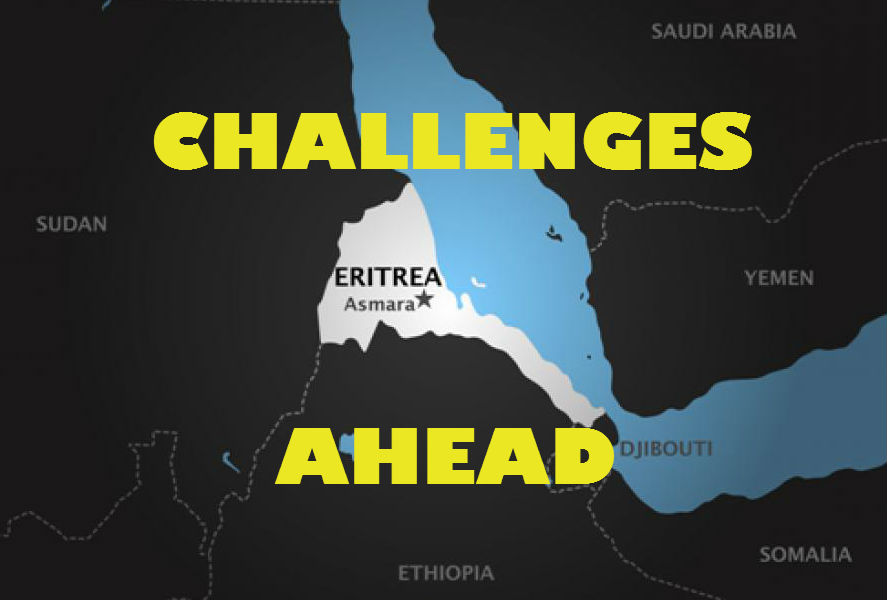 Part IV
Medrek's current cart before the horse "politics":
Advice to reverse it without delay
I did criticise Medrek on few issues in my previous articles. The criticisms were partly meant to assist Medrek to seriously reconsider its idea, and plan of actions in the interest of the opposition. To put it differently, it was meant to advise Medrek to put the horse before the cart- instead of the other round, which Medrek has been pursuing consciously or otherwise for many months. ( For the sake of reminding the readers, one of my criticisms was related to Medrek's meeting with the wudbetaat; I objected to Medrek' s resuscitation of the politically dangerous wudbetaat- at a time when the majority of the opposition have been pleading for an effective grass root opposition movement with one or two aims in mind. I had pointed out in my article that the contact with the wudbetaat was based on wrong, faulty premises.)
Medrek's current "cart before the horse"- or its misguided acts- continues unabated; it is again attributed to the combination of its wrong premises, and perhaps due to an unwarranted hope for a quick fix. Others have attributed the continuation of the misguided acts to Medrek's conscious move to achieve its project at all cost, and with or without the consent of others. The latest disquieting Medrek's act is the rush of Medrek to meet the Ethiopian prime minister and other top officials in Ethiopia's capital city. This rush is understandably much worser than the ones before, and that has worried people like me; many Eritreans have rightly expressed their dismay and unhappiness in the different opposition Paltalks.
I was damn angry after I heard the news of the meeting. I started wondering soon after Medrek's radio broadcast on the issue, which it had wrongly described as successful. I wondered why Medrek in general and Dr. Asefaw in particular have not learned much from past mistakes and failures of other groups, that were virtually running to meet top officials prior putting the opposition house in order. I wondered whether Medrek had ever thought of the possibility of a strong objection from non-EPDP and the many non-wudbetaat opposition; whether Medrek had ever considered that its right is restricted; whether Medrek had ever thought that its action will tarnish the image of the opposition- that has been viewed by many, including Ethiopian officials, as desperately divided ones, with each pretentiously pretending to represent the opposition. (The Ethiopian side is left virtually untouched. I didn't question as to why the Ethiopian intermediaries wasted the time of PM Hailemariam, the speaker of the parliament- who is much worried about Oromo's current little revolution-, and others; I did only remember the very many meetings between Meles and the opposition, and the Eritrean intellectuals and Meles, which led nowhere- largely due to the weakness and unruliness of the Eritrean side.)
I was unable to comprehend Medrek's move, and I was, and am still not impressed with the formation of the Medrek and Ethiopian government committee- which Medrek considers to be a significant achievement. Silence ensued after the wondering, etc; there was nothing else to do than staring at the wall, which didn't help much. The air of incomprehension surfaced during Medrek's  (its two chiefs) interview with VOA, but it was limited to a minute or two. In any case I concluded later that  the latest Medrek's overstepping is also due to Medrek's failure to  acknowledge the limitation of its rights, and this lead me to share the view of others. ( For the sake of saying, Medrek has only few rights, like to exist as a forum and group, and to secretly recruit its members; it has also a right to talk and explain to any institution, partner, etc. on the politics of Eritrea, and its aim. But it has no right to contact Ethiopian officials formally with regard to issues concerning Eritrea and the Eritrean opposition; but Medrek did overstep its right, and that must be condemned, to put it bluntly. It did wrong, and any statement by Medrek to justify its visit and contact is null and void.)
People like me won't still classify Medrek as no-good, and as beyond irreparable entity, despite its overstepping of its right, etc. I do still think that Medrek can contribute much to the creation of a grass root movement (GRM), which I consider to be indisputably second to none; Medrek's contribution can be immense, indeed, considering the easy access of some members of Medrek to foreign institutions, and the fund at its disposal- a lot it is, according to unconfirmed rumours. ( Only few will dispute the extent of Medrek's high potential to make a difference in the formation of GRM; the fund of Medrek can serve as a significant catalyst in its formation. Many do recognize that the formation of GRM in different major cities in USA, Europe, etc is moving at a snail pace, and that is due to Eritreans' loud verbal support to a start of GRM, but extremely reluctant to contribute to a fund; that is what i also witness in the different opposition Paltalks rooms, which I regularly join.)
Medrek has a choice; either to be helpful in the formation GRM, or to continue overstepping its right, and damage the opposition further- leaving Isayas smiling, and the opposition facing the worst of all worlds at this moment and in post-dictator Eritrea; Medrek has no third option- unless Medrek has unknown 3rd in its sleeve- which won't in any case be helpful. I do strongly advise Medrk to opt for the first choice- i.e. to assist with the formation of GRM, and to shelve its plans for good. I should insist that the first choice is the right one, and it is not difficult to choose that either. Medrek has nothing to lose by choosing the first choice; in fact the reverse is true; Medrek will be proud of its contribution and the wish of Dr Asefaw to see a political stable post-dictator Eritrea will be met as well. (Dr Asefaw- who has struggled for almost two decades, while others were dictator's useful idiots, and one was hiding somewhere until very recently- had briefly touched on his fear and worry about the first days and months in Eritrea without the brutal dictator. A well funded and well functioning of GRM will certainly contribute to Eritrea's stability in post-dictator Eritrea.)
I should also insist that Medrek has no time to waste; the decision should be made swifly- before the irreversibility dawns. The third important element is what I prefer to call the fulfilment of the basic prerequisites in order to reinforce Medrek's forthcoming commitment, or to prevent back sliding for one reason or another. One of the prerequisites is to declare publicly that Medrek refrains to call meetings to form GRM, and that it supports local initiatives to perform that duty. The second prerequisite is the unreserved decision of Medrek's top and others- many of whom are persuaded secretly to be members- to be members of GRM in their respective areas of residence. ( Medrek current top and other members will be simple members, like any other member of GRM. It is also what Kaled- an intelligent Eritrean, who is invited a lot by one of Paltalk room- rightly insisted on some days ago. People like me, Kaled, and others expect the current Medrek- whoeverhe/she is- to be appointed to functions within GRM by GRM, and only by GRM.)
I hope Medrek will consider this option without delay, and act on it willingly in the interest of the opposition, and post-dictator Eritrea. The option and the fulfilment of the prerequisites will strengthen the existing  GRM, and speed the start of others; all current troubling, messy  accusations, and dysfunctions will be thrown out of the windows for good- to be replaced by so far missing honest, directed, effective politics of the opposition. And all of us will start working happily together for the two prime aims- that is to weaken the dictator, and to boast the internal opposition-, and to learn the democratic culture during this difficult struggle. ( A horse before a cart does the job.)
Solomon in Belgium