London terror attack Update: ISIS claims responsibility, PM Theresa May confirms arrest of 8 people
Five people died and nearly 40 others injured when a knife-wielding man rampaged through a street in his car and tried to storm the UK Parliament in London. London terror attack: Four people died and nearly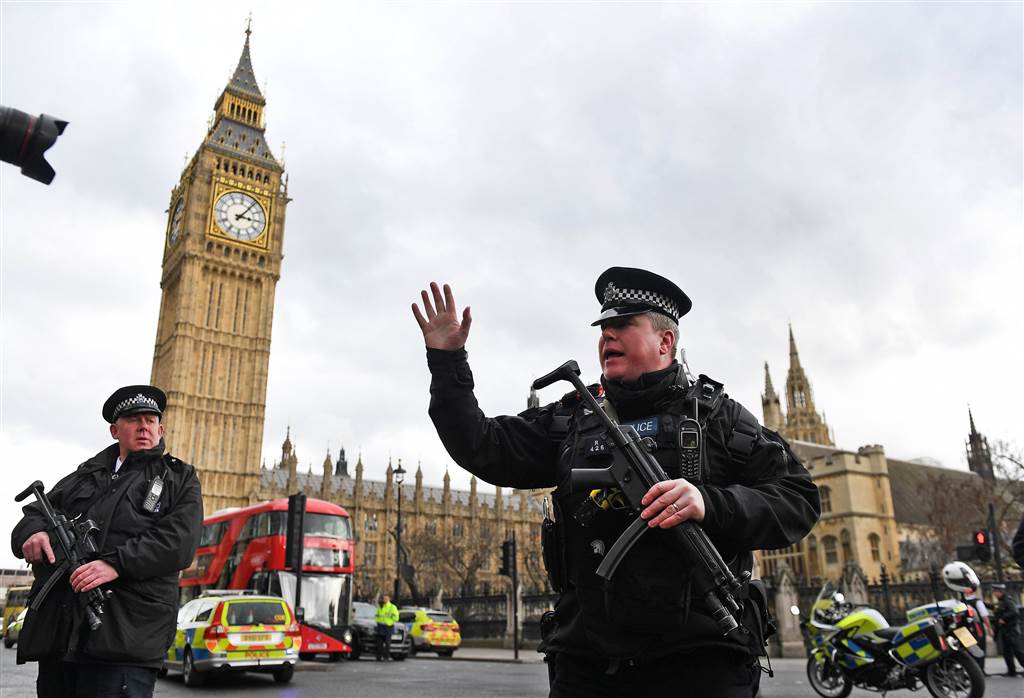 Five people died and nearly 40 others injured when a knife-wielding man rampaged through a street in his car and tried to storm the UK Parliament in London.
London terror attack: Four people died and nearly 40 others were injured when a knife-wielding man rampaged through a street in his car and tried to storm the UK Parliament in London. The incident has been termed as "Islamist-related terrorism" attack. The dead included the attacker, who was "known" to the Metropolitan Police, and the 48-year-old police officer he stabbed. The police identified the officer as Keith Palmer. Three civilians were killed when the man plowed his grey Hyundai i40 through the pedestrians on Westminster Bridge just outside the British Parliament. The knife-man then tried to gain entry to the Parliament via the main entrance and stabbed a police officer. Plainclothes armed officers shouted warnings at him before shooting a number of rounds.
Track here for LIVE Updates:
07:45 PM: Pope Francis was "deeply saddened" by the terror attack outside the British parliament and prayed for all those affected. In a message of solidarity to the head of the Roman Catholic church in Britain, the Archbishop of Westminster Vincent Nicholsthe, the Holy See said, "His Holiness Pope Francis expresses his prayerful
solidarity with all those affected by this tragedy."
6:30 PM: A picture of British Foreign Officer, Tobias Ellwood has come out in which he is seen giving first aid to a wounded police officer, one of four casualties of the London terror attack. The police constable has been identified as Keith Palmer.
5:55 PM: Terrorist organisation ISIS has claimed responsibility for the attacks, according to the news agency Reuters. Earlier in the day, PM May said Islamist thinking was behind the attack.
5:10 PM: The British Prime Minister also confirmed that this attack won't change her approach on Brexit. The country is set to start the negotiations once again on 29th March and the PM's spokesperson told reporters that they won't be delayed.
4:40 PM: The British Prime Minister also confirmed that attacker was London based. She said, "What I can confirm is that the man was British-born and that some years ago he was once investigated by MI5 in relation to concerns about violent extremism.
4:22 PM: May says the attack was inspired by Islamist ideology. Meanwhile, British High Commissioner to India Dominic Asquith has thanked India for support by saying, "I want to thank those who have offered wishes of condolence and support from here in India for what has happened. It is a reminder of those links between our two countries the values we share. Secondly, it is still being investigated so I'm not going to dive into the details of the incidence."
4:18 PM: PM has confirmed that eight arrests have been made overnight and is increasing patrols across the country with more police on streets as precautionary measure. She said terrorists took out rage on innocent women, men and children.
4:15 PM: PM Theresa May says we are not afraid and will never waver in face of terrorism. She added that it was an act of terrorism and free speech, liberty, human rights and rule of law are embodies in Parliament.
3:55 PM: London mayor Sadiq Khan has invited all the citizens for a candlenight vigil. A statement released by his office said, "London is the greatest city in the world. We will never be cowed by terrorism. We stand together, in the face of those who seek to harm us and destroy our way of life. We always have, and we always will."
3:23 pm: Sikh Federation (UK) called for unity against all violence and terrorism and urged Sikhs to remain "calm and extra vigilant".
3:19 pm: The British Parliament has observed a minute of silence to remember those killed in the attack at that heart of the government.
3:15 pm: British envoy to India today said it was an attack on the values shared by Britain, India and many other countries, and pitched for greater cooperation to defeat the menace.
3:04 pm: British parliament reopens a day after terror attack, according to AFP.
3:02 pm: British Prime Minister Theresa May will make a statement in Parliament
3:00 pm: Three French high-school students aged 15 or 16, who were on a school trip to London with fellow students from Brittany, were among the injured.
2:57 pm: French Foreign Minister Jean-Marc Ayrault was expected to arrive in London to visit them at hospital, French media reported.
2:55 pm: Experts say the tactic of mowing people down avoids the need to obtain any explosives or weapons and can be carried out by a "lone-wolf" attacker without using a network of fellow militants – all lessening the risk of alerting security agencies.
2:50 pm: "This kind of attack doesn't need special preparation, it is very low-cost, within anybody's reach," said Sebastien Pietrasanta, a French Socialist lawmaker and terrorism expert.
2:45 pm: The Lok Sabha also condemned the terror attack on the British Parliament in London that killed five people including the attacker.
2:20PM: The pound hit a month's high against the dollar on Thursday as investors awaited UK retail sales data expected to turn positive for the first time in three months. This was above Wednesday's low of $1.2424 the pound had briefly hit after the attack in London.
2:15PM: Meanwhile, Poland's prime minister Beata Szydlo drew a link on Thursday between an attack in London targeting the British parliament and the European Union's migrant policy, saying the assault vindicated Warsaw's refusal to take in refugees.
The Financial Express