Libya boat capsize: At least 36 migrants dead
At least 36 migrants drowned when their boat sank off the Libyan coast earlier this week, officials said, following the recovery of more bodies on Sunday. The navy said it rescued 52 people when the boat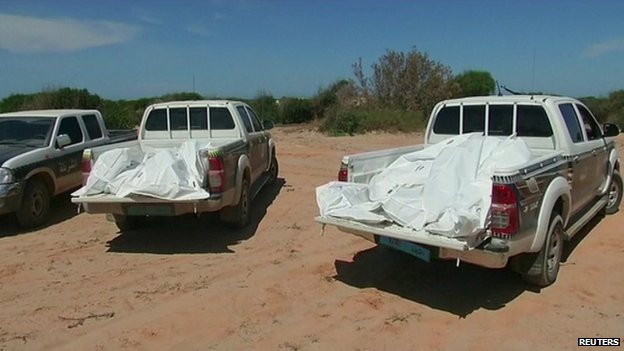 At least 36 migrants drowned when their boat sank off the Libyan coast earlier this week, officials said, following the recovery of more bodies on Sunday.
The navy said it rescued 52 people when the boat sank on Tuesday, but survivors say there were 130 people on board.
On Saturday Libya's interior minister urged the European Union (EU) to do more to help stem the flow of migrants.
Libya is the preferred crossing point for many African migrants trying to enter the EU.
Libyan navy spokesman Ayoub Kassem told the BBC that the boat capsized about 4km (2.5 miles) out to sea near the Libyan coastal town of Garabouli.
The bottom of the boat had collapsed, causing it to capsize, he said. At least 54 people remain missing, he added.
On Sunday 24 more bodies were recovered from the sea near Garabouli, bringing the death toll to 36.
Mr Kassem added that the migrants were from various sub-Saharan African countries including Mali, Cameroon, Ghana, Gambia and Burkina Faso.
The search continues for the remaining passengers.
Interior Minister Saleh Mazek said on Saturday that Libya could not cope with the amount of migrants arriving from sub-Saharan Africa.
He warned the EU that if it did not "shoulder its responsibility", then Libya may help the migrants to reach Europe.
The Libyan government has since issued a statement saying that it would continue to co-operate with all partners in order to stop illegal immigration.
Libya has been plagued by instability since armed groups toppled Muammar Gaddafi's regime in 2011.
Source: BBC