Lapid says Israel should deport 40,000 Eritrean 'economic migrants'
At English-language town hall in Jerusalem, Yesh Atid head says his party may try to step up deportations, stresses Israeli obligation to harbor refugees from 'places like Darfur' Yesh Atid leader Yair Lapid on Wednesday said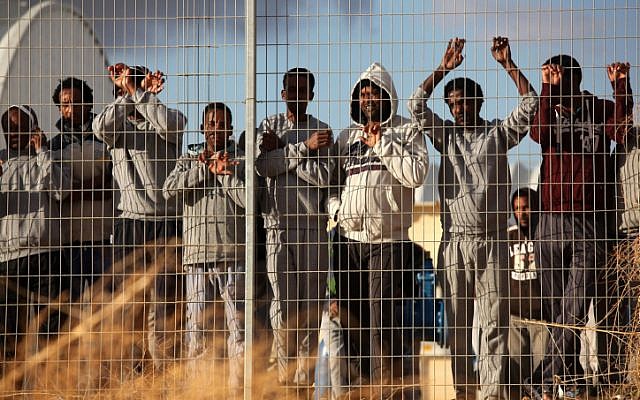 At English-language town hall in Jerusalem, Yesh Atid head says his party may try to step up deportations, stresses Israeli obligation to harbor refugees from 'places like Darfur'
Yesh Atid leader Yair Lapid on Wednesday said Israel should deport the majority of illegal migrants from Africa, while harboring the "small group of refugees" who fled persecution in their home countries.
Speaking at a town hall meeting in Jerusalem to a crowd of 500 English-speaking immigrants, the opposition MK lamented the "horrible" situation in south Tel Aviv, in neighborhoods that have seen a large influx of Sudanese and Eritrean asylum seekers.
He also signaled he may support government-backed legislation to step up deportation measures.
"What we need to do is we need to expel those who came here only to seek a job," said Lapid. "There are two groups. There's a small group of refugees, people who come from places like Darfur, where there was something that's not a Holocaust because nothing is like the Holocaust, but it's almost there," he continued.
"And we as Jews have an obligation to shelter those" being persecuted, he said, and can't be "indifferent to what happened in Darfur and other places."
"But it's not our problem to deal with forty or thirty-five thousand people who came here from Eritrea looking for a job. We need to expel them, whether they agree or not. And if laws should be changed, laws should be changed," Lapid added.
He also said there was "no clear-cut solution," and "none of those things are going to happen tomorrow, because it's complicated."
Calling for a national plan to rebuild the southern Tel Aviv neighborhoods, the opposition MK, who grew up in south Tel Aviv, described the situation in the residential area as "horrible."
The crowd of some 500 immigrants from English-speaking countries, many of them religious, applauded when Lapid laid down his proposal on fighting corruption, and cheered his vows never to divide Jerusalem and to push for the draft of the ultra-Orthodox into the IDF.
The varied questions from participants ranged from the high cost of living in Israel, to neglect of Arab towns in the south and north, Jerusalem municipal affairs, Israel's chief rabbinate and government bureaucracy, elder abuse, the Gaza power crisis, Hezbollah, and the peace process.
Lapid's comments on the migrants were in line with the government stance, which has stated that most of the illegal migrants are economic migrants and should be deported.
Prime Minister Benjamin Netanyahu on Sunday said the tens of thousands of Africans who are living in Israel illegally are not legitimate refugees or asylum seekers, but instead are economic migrants.
"They aren't refugees," Netanyahu told his ministers at the start of the weekly cabinet meeting. "Or at least most of them aren't."
"Most of them are looking for jobs," he asserted.
Netanyahu, who last week announced the establishment of a ministerial committee to deal with the influx of largely Sudanese and Eritrean migrants to Israel in recent years, vowed to "remove [the] illegal aliens who don't belong here."
The prime minister's remarks come on the heels of a Supreme Court ruling that said the government could continue its controversial practice of deporting undocumented migrants to an unnamed third country, but also said it could no longer jail for more than 60 days those who refuse to leave.
Israel has for several years been pressuring migrants to relocate to Uganda and Rwanda, through incarceration in detention facilities and the promise of financial incentives. Following the ruling, Israeli officials said they would amend the law so that migrants could be deported without their consent as well.
According to the African Refugee Development Center, there are approximately 46,437 Africans in Israel who consider themselves asylum seekers. The majority, 73 percent, are from Eritrea, and approximately 19% are from Sudan. The refugees say they fled persecution and even genocide in their home countries.
The ruling — effectively hobbling the deportation program — was met with outrage by many lawmakers and residents of south Tel Aviv, an area that has seen a large influx of illegal African migrants in recent years.
Many local residents have protested the asylum seekers, who they claim engage in crime and have overrun their neighborhood. On Saturday, hundreds of residents protested outside the home of Supreme Court President Miriam Naor, demanding "human rights for citizens too."
During a solidarity visit to Tel Aviv last Thursday, Netanyahu, Public Security Minister Gilad Erdan and Culture Minister Miri Regev toured south Tel Aviv and vowed that the government would "give back" the neighborhood to its Israeli residents.
Netanyahu has previously said the government would take a three-pronged approach to the issue: a security fence along the Egyptian border, which has already succeeded in significantly reducing the number of migrants who cross into Israel from African countries; increased enforcement against those employ illegal migrants and migrants who break the law; and the ministerial committee, which the prime minister said he will lead himself.
Times of Israel staff contributed to this report.
timesofisrael.com