Kidnapped Germans in Eritrea after attack: Ethiopia
Addis Ababa said Friday that two Germans kidnapped during a deadly attack by unidentified gunmen on a group of tourists in northern Ethiopia had been taken to neighbouring Ethiopia. Germany said it was still investigating the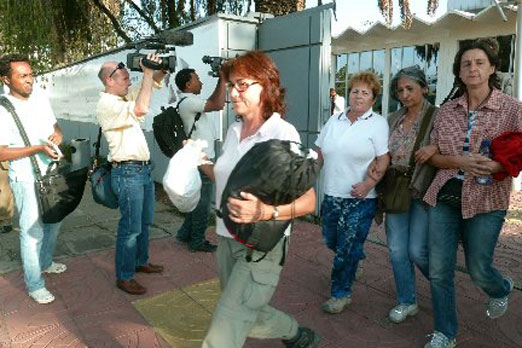 Addis Ababa said Friday that two Germans kidnapped during a deadly attack by unidentified gunmen on a group of tourists in northern Ethiopia had been taken to neighbouring Ethiopia.
Germany said it was still investigating the pair's whereabouts.
"There is news that they are in Eritrea by now," foreign ministry spokesman Dina Mufti told AFP.
The Germans are believed to have been abducted when gunmen attacked a group of tourists in Ethiopia's remote Afar region earlier this week. Five people were killed in the attack: two Germans, two Hungarians and one Austrian.
The German foreign ministry said three members of Germany's Federal Crime Agency were dispatched to Ethiopia to assist search efforts.
"The Federal Crime Agency (has) sent staff to Ethiopia in order to support the Embassy," a spokeswoman for Germany's foreign ministry told AFP from Berlin.
"They are trying to investigate where the two missing Germans could be."
Six other Germans were among twelve survivors, some of them wounded, who were flown back to Addis Ababa on Wednesday. A Belgian citizen with gunshot wounds remains in hospital in Mekele in northern Ethiopia.
The five bodies have been flown to the capital.
The attack took place near the famed Erte Ale volcano in Ethiopia's sparsely populated Danakil desert, close to the tense Ethiopia-Eritrea border. The area, which boasts spectacular moon-like landscapes and is famed to be the hottest place on earth, is popular among travellers.
No group has claimed responsibility for the killings, but Ethiopia blamed arch-foe Eritrea for carrying out the attack. Eritrea vehemently denied being behind the incident, calling Ethiopia's claim "ludicrous" and a "smear campaign."
The two Horn of Africa countries fought a bloody border war from 1998 to 2000 which killed 70,000 people. The border remains contested, with Ethiopian troops occupying land that international courts say belongs to Eritrea.
Source: Expatica.com