Justice minister hopes to deport Eritreans in wake of EU precedent
After European Court of Human Rights rules that an Eritrean asylum seeker would not be in life-threatening danger if deported back to Eritrea, Justice Minister Ayelet Shaked appoints team to determine whether ruling could support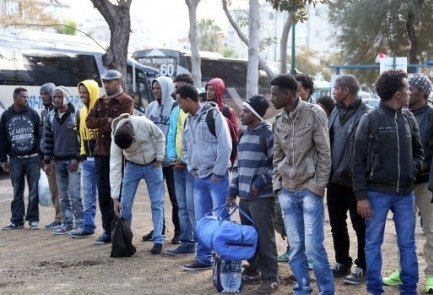 After European Court of Human Rights rules that an Eritrean asylum seeker would not be in life-threatening danger if deported back to Eritrea, Justice Minister Ayelet Shaked appoints team to determine whether ruling could support change in Israeli policy.
Following a report in Israel Hayom earlier this week about a landmark ruling by the European Court of Human Rights that would allow Eritrean migrants to be deported back to their country of origin, Justice Minister Ayelet Shaked has instructed her ministry's International Department to look into the possibility of deporting Eritrean migrants currently living in Israel.
Last week, the European Court of Human Rights ruled that an Eritrean national, whose request for asylum was denied by Switzerland, could legally be sent back to Eritrea because contrary to the man's assertion, his life would not be in danger there.
Dr. Roy Schondorf, deputy attorney general for matters of international law, has been appointed to lead a team that will thoroughly review the international ruling and determine whether it is applicable to Israeli policy.
The team's first job is to parse whether the ruling pertains only to the case of a particular individual, or whether it can be generally applied to Eritrean migrants and if so, whether it applies to individuals who meet certain criteria or to all migrants from Eritrea.
The 1951 U.N. Refugee Convention, to which Israel is a signatory, includes an article that prohibits the deportation of individuals whose lives would be in danger if they returned to their home countries. Until the European ruling, there was an international consensus that Eritrean migrants could not be returned to their country of origin.
If Schondorf's team determines that Eritrean migrants can be returned to their country of origin, the matter will be passed on to the Interior Ministry, currently headed by Interior Minister Aryeh Deri of Shas, along with a clarification of the new legal findings.
An estimated 30,000 Eritrean refugees currently reside in Israel. Over the past three years, 13,000 have left Israel, some of them in response to incentives provided by Shaked, such as arrangements with countries classified as safe.
Many residents of southern Tel Aviv neighborhoods complain about what they view as an invasion by Eritrean and other African migrants which they believe has led to a significant uptick in crime. Shaked said she "hopes the ruling will provide a breakthrough in the policy of not deporting Eritreans and change the lives of the residents of southern Tel Aviv. The matter is being thoroughly evaluated by the Justice Ministry."
Source: http://www.israelhayom.com