Italy: Human Traffickers 'Stabbed 60 Migrants to Death' in Latest Boat Tragedy
Italy: Human Traffickers 'Stabbed 60 Migrants to Death' in Latest Boat Tragedy Italian police have arrested five human traffickers under allegations of stabbing 60 migrants to death and throwing their bodies into the sea off the coast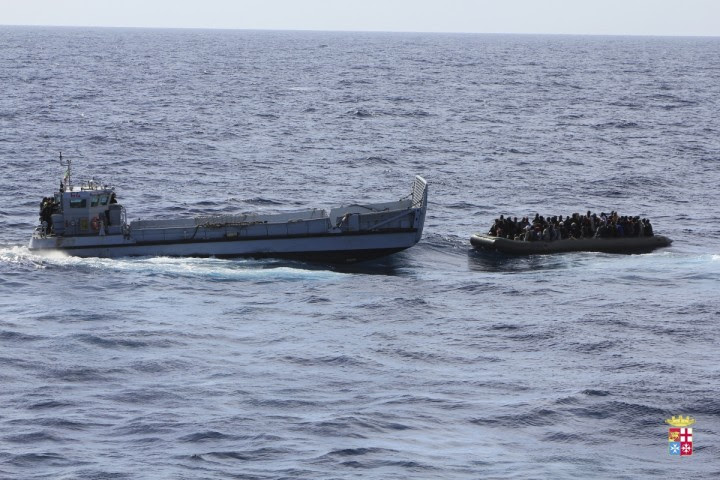 Italy: Human Traffickers 'Stabbed 60 Migrants to Death' in Latest Boat Tragedy
Italian police have arrested five human traffickers under allegations of stabbing 60 migrants to death and throwing their bodies into the sea off the coast of Lampedusa.
Asylum-seekers rescued by the Danish petrol tanker Torm Lotte between Libya and Malta and taken to Messina told investigators that the sinking fishing boat was carrying between 700 and 750 people, according to Italian media.
Only 569 people were rescued by the Danish freighter, while the others died drowning or were allegedly stabbed or beaten to death by the traffickers in the fishing boat's hold and then hurled into the sea.
Due to its southern location, Lampedusa is a favourite target of migrant smugglers who usually set sail from Libya's loosely patrolled coast.
To avoid coastguard patrols, human traffickers often allow overcrowded, rundown boats to run adrift miles from Lampedusa's shores.The practice has caused many vessels, usually loaded with migrants fleeing wars or hardship in Syria, Eritrea and elsewhere, to flounder.
Earlier this month, dozens of would-be migrants died in the refrigerated hold of a fishing boat in an episode so horrific that Italian authorities compared it to a Nazi mass grave. The African migrants, who were stowed in the hold by human smugglers, are believed to have suffocated to death, crammed on top of each other.
The men were packed in so tightly that rescuers initially counted 30 victims but had to revise the death toll up to 45, after the vessel was towed to a Sicilian port for a closer inspection.
"They were stacked up, one on the other, like in an Auschwitz mass grave," said Antonino Ciavola, the chief of the police rapid response team in Ragusa, Sicily. More than 600 migrants were on board the 20m long vessel that police said should have carried half that number.
Authorities said that more than 60,000 migrants have reached Italy since the beginning of the year and the number of arrivals is expected to exceed the yearly record of 62,000, set in 2011 during the Arab Spring uprisings, over the next few days.