In Search for Liberty – 5th Narration: Eritreans are Responsible for Eritrea's Woes
In Search for Liberty - 5th Narration, 23 Oct. 2018 Eritreans are Responsible for Eritrea's Woes Dear Reader: The Eritrean tragedy requires our full attention and unreserved dedication for a solution to our problems, with all the daring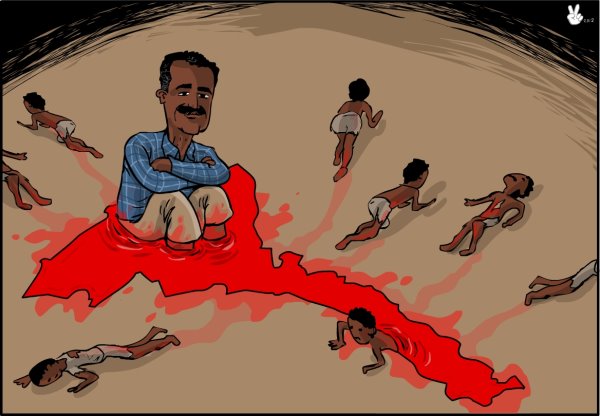 In Search for Liberty – 5th Narration, 23 Oct. 2018
Eritreans are Responsible for Eritrea's Woes
Dear Reader: The Eritrean tragedy requires our full attention and unreserved dedication for a solution to our problems, with all the daring frankness that it demands.  And, please be patient with my analysis, which, I must admit, has been said by so many, in so many different ways. In short, we are repeating ourselves. And we know it!!! But adamantly refuse to face our realities.
Eritreans have fought for thirty-years, with horrendous sacrifice, to have a say on their own country – Eritrea. In that endeavour, no one else can have a say, but Eritreans. Unfortunately, the greatest Houdini Act fell upon Eritrea by a single dictator who manipulated his way for twenty-seven years, with the greatest patience, coupled with meticulous deception and ended-up controlling the Life of Eritrea. To do so, he used the two divisive factors of Eritreans i.e. RELIGION and REGION (tribalism). And so, Issayas–Afewerki–Abraha–Miratch became the absolute ruler and self-appointed President, presumably for Life, with a possibility that his son would then be the successor. This is the reality of our doings facing Eritrea. Yes, our doing! And no one else!
Question: What do Eritreans should do?  The logical answer lies within Eritrea. If Eritreans were admirably capable in the 30-year struggle for Liberation, they can surely challenge [at least attempt to do so] a self-appointed dictator. If, on the other hand, Eritreans are convinced that they cannot 'clean their house', then it is tantamount to declaring that Eritreans are not capable of securing their highly-paid Liberation.  In a sense – simpleton as it may sound – Eritreans are, after all, not capable of handling their dearly paid for Liberated State. To make it even more bizarre regardless of the situation, the World Organization accepted Eritrea as one of the 195 Member States!!! Eritrea is, in fact, one of the 'Honourable' Member States of the Human Rights Commission!!! Abusing of Eritrean People's Rights is NOT considered as Human Rights by the consequential definition of the Respectable, Source of Wisdom, Human Rights Commission of the United Nations!!! It is cynical of all  cynicism. But in diplomatic world, it is the respectable exchange of 'scratch my back; I scratch yours'. So Issayas Afewerki Abraha plays the game to its ultimate limit – unhindered by any Global rules. To be honest, I admire the Devil!!! One human being manipulating the entire population of five million!!! Amazing!!! I know Hitler did it;  Mussolini did it;   Stalin did it;  and the entire African Leaders are doing it over the entire population of  the "Dark" Continent of Africa. .So, there is nothing new!!!
So, our woes is the same with other individual States. Take Ethiopia. The cooperation and diplomatically agreed upon and signed between Eritrea and Ethiopia are wonderful and a great relief to the ordinary people of the two previously enemy countries. Ethiopia gets what it was aiming for and Eritrea (which actually means Issayas) will get: a) fraternal diplomatic recognition; b) revised good relationship with neighbouring countries; and c) some sort of written recognition from Saudi Arabia for the 'excellent' job that the Dictator is undertaking.  It is important to note that no country indulges in the internal affairs of the other. In the case of Eritrea and Ethiopia, their internal affairs are intact to their respective mode of operation and governance.  To make it glaringly clear, the Prime Minister of Ethiopia has NO business in the internal affairs of Eritrea – and vice versa. If Eritreans have a wishful thinking that the young, charming, tireless Prime Minister and the People of Ethiopia will come galloping to save the Eritrean people from the yoke of Issayas Afewerki Abraha it would be historical testimony of Eritrean NAIVITY.
Let us be clear: We Eritreans are the custodian of, and responsible for, our own internal affairs. No force on Earth cares about our Life more than we do. If Eritreans, in spite of our long experience, still maintain the cancerous disease of parochialism, we are doomed for ever. In particular, if Eritrean Intellectuals ['blind' estimate = 5000] of the Highest Order, with abundant international experience, refuse to get together and draft a resolution to save Eritrea [i.e.  reflecting the noble intention of the 30-year war of horrendous sacrifice] then, for sure ERITREA IS LOST for ever. In that case, the horrendous sacrifice made by gallant Eritreans of all ages will come to NOTHING. WHAT A SELF-MADE TRAGEDY!!!      THE END
Rezen