Ethiopia mobile internet still off after a week
Addis Ababa - Ethiopians were still unable to surf the web via mobile networks on Tuesday, despite government claims the nationwide internet shutdown, which began a week ago, had been lifted. Africa's second most-populous country turned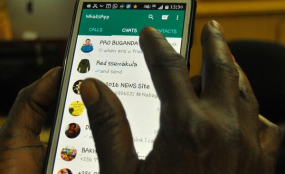 Addis Ababa – Ethiopians were still unable to surf the web via mobile networks on Tuesday, despite government claims the nationwide internet shutdown, which began a week ago, had been lifted.
Africa's second most-populous country turned off its internet access without warning or explanation last week, briefly depriving even diplomatic buildings, like the UN's Economic Commission for Africa and the headquarters of the African Union, of internet access.
While service to those two institutions was restored and subscribers to broadband internet say they are now able to get online, access via mobile data – which is most used by businesses and individuals – was still unavailable.
This is despite government assurances that the blockage had been lifted.
In a press conference on Monday, Communications Minister Negeri Lencho said the internet had been "partly" shut down for three days last week and that social media sites were the only services that remained blocked.
Negeri said the shutdown was a measure necessary to keep students taking annual exams away from distractions on social media.
"The only reason is to help our students to concentrate on the exams because we know we are fighting poverty," Negeri said.
Ethiopia's sole telecommunications provider has blocked social media websites like Facebook and Twitter since anti-government protests broke out last year.
The country is among the least-connected in Africa, with only about 12% of people online, the International Telecommunications Union reported in 2015.
The Brookings Institution think tank released a report last October saying the country only lost around $8.5m when internet access was cut off for weeks during last year's unrest.
"People invest a lot of money in China, where the internet is already very difficult," John Ashbourne, Africa economist a London-based Capital Economics told AFP. "These are not insurmountable problems, but they're frustrations."
The internet cafe where Abiy Tesfaye works in Addis Ababa's busy Piazza neighbourhood runs off mobile data and only one customer was using one of his 14 computers.
The business has been suffering for years as more and more people browse the internet with smartphones, Abiy said, and the internet shutdown was the latest blow.
"We lose money, we don't have the customers. It's a shame," he said.
Around the corner, Dereje Alemayehu Nida's cafe was doing a brisk business in people filling out visa applications and surfing Facebook, but that's only because his broadband internet access came back online over the weekend after days without connectivity.
"It would have been better if they used another means to control the exams rather than shut down the internet," Dereje said.
News 24