Eritrea's historical problems and solutions at a glance, 1951- 2015
Eritreans' special gift of 2016 for Isayas:  A gift of three "never-s" -Never will cycles of your abuses silence our people's intentions to fight back and win this year. -Never will Eritreans stop coming together to save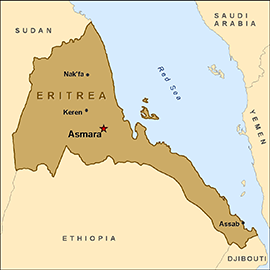 Eritreans' special gift of 2016 for Isayas:  A gift of three "never-s"
–Never will cycles of your abuses silence our people's intentions to fight back and win this year.
-Never will Eritreans stop coming together to save their people and to worsen your fear of the UN's actions.
-Never to let you die in peace before you stand a trial.
Eritreans had to acquire healthy and rich revolutionary experiences from their 30 years struggle for national independence.   The main themes of the Eritrean Revolution were national unity, know your friends and foes, expose divisive forces among you, mobilize and organize to end repression, and know enemy's weakness and take action against it.
When the Eritreans demanded respect for the Eritrean constitution, the Emperor ordered all voices silenced.  To confront violations of the Federal Act and decisions to abrogate the Eritrean Constitution, the first step was to take people's indignation and outrages to the streets peacefully.  When the Emperor lost attention to the problems of the Eritrean people and prospects of peace became a bleak, the only option was to upgrade the Eritrean people's peaceful struggle to armed struggle.
Similarly under Isayas, there is no space given for the Eritrean people to express their anger through demonstration or court.  With the change of currency announcement in November, the regime planned and committed it's finally encroachment confiscating the people's possession and money.  What is left of it? Nothing left.  The regime trampled and crushed on the people's rights to live a dignified life.  At a time like this, a real person is missing.  This real person can be a sleeping lion, who never wishes to be a prisoner of Isayas for life, if awaken from the sleep.  This missing person is our new Awate, who is ready to face all the consequences when leading all those weak and frightened to face the challenges.
If one doesn't get richer in experience and wiser by learning from others experience, s/he will soon be drinking the whole bottle of failure.  The Ethiopian and Sudanese experiences can help Eritreans to make good judgments about their future before they take the awaiting actions.  When one starts to experience something similar to others' past experiences, those experiences are rivers of wisdom to benefit from when dealing with his/her darkest futures.  If a similar problem in Ethiopia or Sudan or other world was dealt successfully in the past, it would a lesson to benefit from for Eritreans.  The purpose of learning from others' experience is to prevent recurrence or to avoid similar or stupid mistakes, which purpose will only be considered fulfilled if the lessons learned from past experiences were used to guide us to make a safe decision.  Otherwise, once one plunges into the unsolved problem there will be no easy ways to swim out resulting in a crushing disappointment for not acting in time.
In Ethiopia, the slogan "Ethiopia First" started to be chanted when finally it was recognized that there was an urgent need to save the nation.  All strategies to protect the interest of the royal family were at risk including the program of Amharization started to cause multilayered conflicts to innocent Amhars.  Under pretense of gaining foothold, the Ethiopian revolution or "Ethiopia First" movement focused on first eliminating any chance of the royal family or possibility of returning to power.  The "Ethiopia First" as a young revolution was swift and unforgiving in that it was blundering everywhere but more on Amhars because they were associated with the threat.  Soon, many courageous Amhars started to say and do that was never said or done before in that they criminalized many criminal Amhars to prove that the whole Ethiopian people were victims of the royal family's corruptions.  The EPRP and other Amhar movements against the royal families were there on the side of the victimized Ethiopians.
Again, as soon as the TPLF rooted out the Derg, Ethiopia was saved from exploding when the Weyanes became more Ethiopian than Tigrawot showing care for the unity of Ethiopia.  Many thanks go to Meles and his group for realizing that Isayas was waiting for Ethiopia to implode as to become his prey and fragment it like he did to the Sudan.  Until the Ethio-Eritrean war Meles was weak and left the whole of Ethiopia open to Isayas's blunders in order to divert Isayas's focus from fragmenting Ethiopia to looting it only.  The war glued all Ethiopian ethnicities to rally behind Meles.  Thus, Ethiopia was saved from exploding twice, once upon the fall of Mengisto and second on responding to Isayas's declared war on Ethiopia.  However, the Mengisto system is considered to have imploded causing the whole system to collapse and all Mengisto's dirties and damages were broom-cleaned by Melles and his groups.
Situations like these may await Eritrea to face.  Only selflessness will save Eritrea and the Eritreans' unity.  If Eritreans are to live together in peace, we should be ready to tolerate and be only focused on what is necessary insisting on first law and order, an end to repressions and unwarranted imprisonments, and to stand together against any activity that threatens the territorial integrity of Eritrea.  Also, to rally behind the transitional government until constitution drafted and implemented as well as parliamentarians elected and a government announced.
Like the other colonizers, the Ethiopian colonial rule ended but yet we can review the historical and political legacies in order to understand a free Eritrea better.  Although Haile Selassie was a benevolent dictator, he was using the Amhars as his accomplices in some of his mistreatments, crimes and atrocities committed by his system against the non-Amhars.  The movement of Ethiopia-First that replaced the royal family took a wise move to neutralize all grudges against the Amhars.  In  post-Mengisto, it has become clear that Ethiopian leaders not only have to grow up to understand the power of the people but also have to steer away from divide and rule measures in order to save the country from imploding or exploding.
Compared to Haile Selassie, Isayas is not only the cruelest dictator but also a failure to learn from his experiences and that makes him unwise dictator.  And those on whom Isayas depended for his protection, besides those in crony businesses with him, are considered criminals to be indicted when his system falls.  In accordance with this concept, if there is a victim there is a criminal, and, therefore, a criminal should be indicted for the crime committed.  Isayas or all his abettors in tyranny including his collaborators and those around him and them, who are immediate perpetrators, are considered to be accomplices and aiders, thus, all are equally criminals.  However, if one is found to be a criminal, the finding does not necessarily affect or put at risk of criminalizing the whole tribe or family members of the indicted person.  As such, all those around Isayas are not to be considered criminals until proven so at a court of law. Because Isayas handpicked many people from one area, group or tribe to tyrannize the people, many of the victims find it easy to blame the whole of a region or a tribe, just as the Amhars were blamed under the Haile Selassie rule.  To avoid blames by association, it is time that associated regions and tribes speak out and prove their innocence.
Isayas destroyed every Eritrean and each part of Eritrea.  Isayas is using those who survived his shocks to further crush the remaining or the uncrushed parts of Eritrea.  Those who held on have become criminals and those who let go have become Isayas's endless victims – no water, no electricity, no money and no life.  Isayas targets those who tend to be strong in tough times.  His hate of a strong Eritrean manifests that his cruelty is driven by fear, weakness and envies.
It is time to call for each of us to toughen up.  A special call on victims of Isayas is needed calling on them to toughen up than any time before.  Ennobled by their past resistance, pains and scars, the victims have to join others in fighting to build a strong and fair system that each of us can trust.  Yes, we have to build a system that redresses victims' grievances and ensures elimination of injustices that was a cause for victims' sufferings, pains and shocks.  The call is to give support to those who are still suffering at the hands of Isayas.  Let's all join those who are determined to fight tyranny and condemn all those who are determined not to fight back when freedom is suppressed.
Happy New Year
Mamino