Eritreans protest against disputed Danish report
Eritrean refugees and asylum seekers march through Copenhagen to denounce the results of Denmark's controversial fact-finding mission to the east African country. The Danish Immigration Services (Udlændingestyrelsen - DIS) report on Eritrea that has led to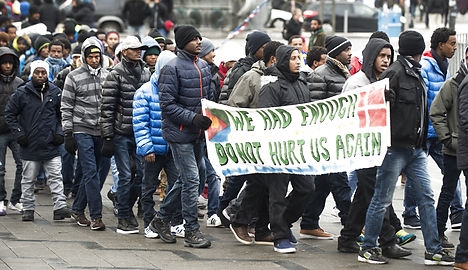 Upwards of 500 people participated in a protest action spearheaded by Eritrean asylum seekers and refugees in Denmark.
Protesters marched through Copenhagen before delivering what they called "an urgent appeal" to parliament to disregard the recommendations of the controversial report.
"As the highest organ of the Danish people, we Eritrean refugees in your beloved country appeal to you, Folketinget [the Danish parliament, ed.], not to use the contentious Danish report of the Danish Immigration Service (DIS) in determining our case for political asylum in Denmark," the group's open letter to parliament reads.
In a press release sent prior to Friday's protest, Eritrean asylum seekers and refugees stressed that they "are very thankful to Danish people and to their democratic government for hospitality and liberty".
"We want to assure the Danish people that we are law-abiding citizens and hardworking people who are made to abandon their beloved country and family due to gross human rights violations in Eritrea," the press release reads.
New figures released by DIS on Friday showed that the number of Eritreans seeking asylum in Denmark fell by 89 percent between August and November. Just 64 Eritreans sought asylum in Denmark last month.
For more stories about Denmark, join us on Facebook and Twitter