Eritreans in Ethiopia demonstrate over abuses back home
ADDIS ABABA, Ethiopia — Hundreds of Eritrean refugees and dissidents in Ethiopia demonstrated Thursday against alleged human rights abuses committed by their government back home, expressing support for a new U.N. commission report that accuses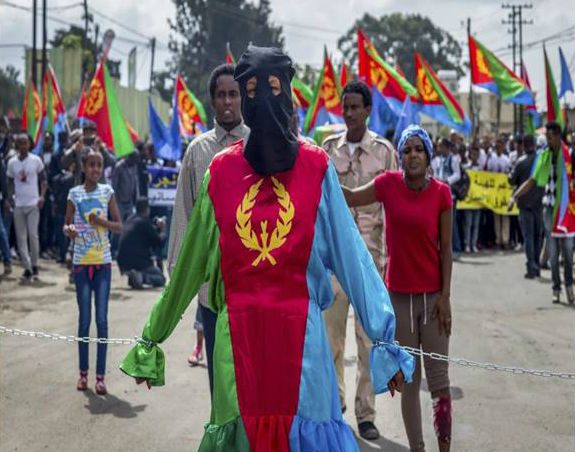 ADDIS ABABA, Ethiopia — Hundreds of Eritrean refugees and dissidents in Ethiopia demonstrated Thursday against alleged human rights abuses committed by their government back home, expressing support for a new U.N. commission report that accuses the government of crimes against humanity, including enslavement, rape and torture, over the past 25 years.
The Eritreans protested outside the headquarters of the African Union in the Ethiopian capital, Addis Ababa. Similar protests occurred in refugee camps across Ethiopia, which has no diplomatic relations with neighboring Eritrea.
Eritrean refugees are one of the largest groups trying to cross the Mediterranean Sea to Europe. The U.N. report says 47,025 Eritreans applied for asylum in Europe in 2015.
"Everyone in Eritrea is very desperate at the moment due to the dire conditions at home," said Bashir Isaac Abdulla, an organizer of the demonstration. "Many of them want to escape from the country by any means, and that is why we are witnessing a massive migration of the youth."
The protesters in Addis Ababa carried banners calling for the indictment of Eritrea's president, Isaias Afwerki, who has been in power since 1991. They staged a mock execution and carried a casket draped in Eritrea's flag.
Afwerki has become increasingly repressive, according to rights groups.
The three-member U.N. commission, which was not allowed to visit Eritrea, said many rights violations occur behind "the facade of calm and normality that is apparent to the occasional visitor to the country."
The report estimated that between 300,000 and 400,000 people in Eritrea are enslaved, mostly through military conscription. The country's population is about 6 million.
Eritrea rejected the U.N. report, saying it lacked solid evidence to back up the serious allegations.
 Copyright 2016 The Associated Press. All rights reserved. This material may not be published, broadcast, rewritten or redistributed.