Eritrean community demonstrates at Free Press
About 100 protestors from the Eritrean community demonstrated outside the offices of the Winnipeg Free Press today, upset about stories they believe portray them as having links to terrorist groups. Lambros Kyriakakos, a board member with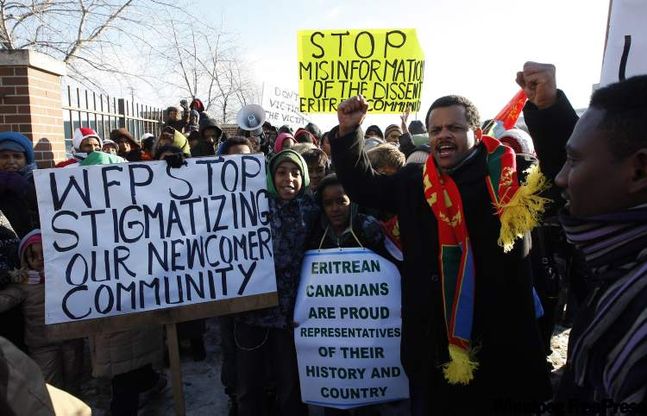 About 100 protestors from the Eritrean community demonstrated outside the offices of the Winnipeg Free Press today, upset about stories they believe portray them as having links to terrorist groups.
Lambros Kyriakakos, a board member with the Eritrean Community in Winnipeg Inc., said he wants to see an apology in the Free Press.
"We want to see action," Kyriakakos said.
"Our children are being called terrorists… this causes damage… We are now Canadians. The actions of two or three people can't stigmatize the whole community."
Several people waved signs saying "We are victims of terrorists" and "Don't victimize the victim."
At one point, six Winnipeg police cruisers were at the Free Press and a police officer helped Free Press security close one of the gates to prevent protestors from coming onto the property after a vehicle with four members of an opposing group drove into the parking lot.
One of the people in that vehicle, Ghezae Hagos, said there are more Eritreans in Winnipeg who disagree with the protesters, but they are afraid of repercussions against them or their family if they speak out.
"It is a privilege to come to Canada," Hagos said.
"These people are perpetuating the problems in Eritrea. This protest is a reflection of what is going on back home.
"They have just come to demonstrate and silence us."
Free Press editor Margo Goodhand met the protesters at the gate and waded into the middle of the crowd to explain the newspaper's side and hear from the protestors.
Afterwards, Goodhand said "this is a free and democratic society, and we welcome opinions of all kinds.
"I'm glad these people came out to express their perspective, and we will continue to investigate the issue. We will not be intimidated by protests or petitions or threats on either side.
"We stand by our reporters and the work they have done on this story."
Winnipeg Free Press
No matter the legitimacy of their demands, the PFDJ regime supporters have been listened to; but will they ever listen?