Eritrea welcomes Ethiopia's olive branch, to send delegation to Addis Ababa
Eritrea's president broke weeks of silence on Wednesday to respond positively to conciliatory overtures from bitter foe Ethiopia, raising hopes of a fresh start in the Horn of Africa. A brutal, fruitless border conflict between the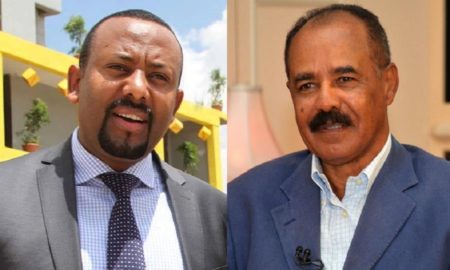 Eritrea's president broke weeks of silence on Wednesday to respond positively to conciliatory overtures from bitter foe Ethiopia, raising hopes of a fresh start in the Horn of Africa.
A brutal, fruitless border conflict between the two countries ended nearly two decades ago. Since then, both have maintained a war footing with shots occasionally fired, and backed each other's rebels.
Their long cold war has stymied economic development, frozen political relations and helped justify domestic repression — but it may now be thawing, thanks to an unprecedented concession from Ethiopia, long demanded by Eritrea.
On June 5, new Prime Minister Abiy Ahmed announced that his country would at last abide by a 2002 international ruling that gave the disputed town of Badme, and other territory, to Eritrea.
On Wednesday, Eritrea's 72-year-old president, Isaias Afwerki, a military leader who has ruled since 1993, responded cautiously but positively to Ethiopia's olive branch.
"We will send a delegation to Addis Ababa to gauge current developments directly and in depth as well as to chart out a plan for continuous future action," Isaias said in a Martyrs' Day speech commemorating those killed in the drawn-out struggle for separation from Ethiopia.
It is unclear when the delegation will travel to Ethiopia, but Rashid Abdi, Horn of Africa director at the International Crisis Group (ICG) think tank in Nairobi, said a glittering opportunity was within reach.
"Both countries should seize this historic chance to engage in serious dialogue to find a lasting peace settlement to the border conflict," he said.
Abiy's chief of staff, Fitsum Arega, said the Ethiopia leader welcomed the "positive response" and "expressed his readiness to welcome warmly and with considerable goodwill the Eritrean delegation".
Isaias stopped short of calling it a peace delegation and had bitter words for the Tigrayan People's Liberation Front (TPLF) — a faction of Ethiopia's ruling ethnic coalition that wields influence in both politics and security.
"Ethiopia is now at a turning point," he said. "(…) Although it will require time and efforts to remove the TPLF's toxic and malignant legacy and to bring about a congenial climate, the positive direction that has been set in motion is crystal clear."
Isaias warned some hardliners in Ethiopia would seek "the perpetuation of tension with Eritrea" and to frustrate efforts towards "a durable solution to the senseless border conflict that they unleashed".
Rapid change
The Red Sea nation of Eritrea was once part of Ethiopia and comprised its entire coastline until 1993 when it voted for independence from its southern neighbour, rendering Ethiopia landlocked.
In 1998 a disagreement over the demarcation of their shared border sparked war, leaving about 80,000 people dead. A UN-backed boundary commission in 2002 divided up contested territory between the two countries, but Ethiopia rejected the ruling.
Isaias has long justified restrictive rule, punishing military conscription and the jailing of dissidents as necessities to defend itself against its much larger neighbour.
His authoritarian leadership has left his country diplomatically isolated and burdened by sanctions, and triggered an exodus of Eritreans, many of them making the dangerous migration to Europe.
A potential thaw in relations with the United States too was signalled in April when Donald Yamamoto, President Donald Trump's top Africa diplomat, paid a surprise visit to Asmara.
Abiy, 41, has moved fast since his April swearing-in to end years of anti-government protests and maintain fast but faltering economic growth.
He has released jailed politicians and journalists, admitted that security forces tortured dissidents, moved to liberalise the state-controlled economy, backed down in the long-running dispute with Eritrea and embarked on an energetic diplomatic tour of the region.
(AFP)