Eritrea stretches elite men's TTT record in African champs
Medal table after Day One Eritrea – 2 gold, 1 silver Rwanda – 1 gold, 2 silver, 1 bronze Ethiopia – 1 gold Algeria – 1 silver Burundi – 1 silver Nanibia – 1 bronze RWANDAN cyclists enjoyed the home advantage to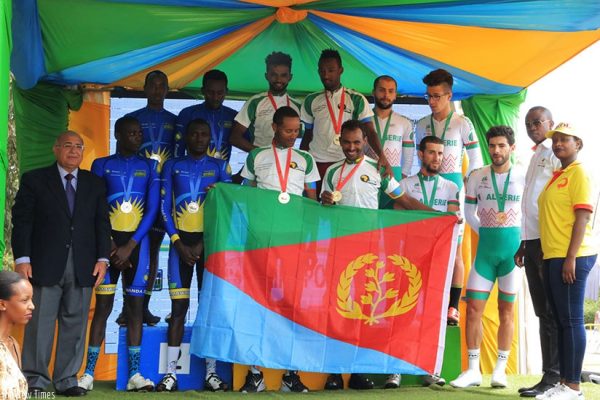 Medal table after Day One
Eritrea – 2 gold, 1 silver
Rwanda – 1 gold, 2 silver, 1 bronze
Ethiopia – 1 gold
Algeria – 1 silver
Burundi – 1 silver
Nanibia – 1 bronze
RWANDAN cyclists enjoyed the home advantage to win a total four medals on day one of the 13th African Continental Road Championship in Kigali, Rwanda.
The 13th edition of Africa's biggest annual cycling event which got underway on Wednesday will run through to February 18 in Rwanda's capital, Kigali.
The opening day was for Team Time Trial (TTT), where a team of four races against time.
In the medal tally chase, it was a two-horse for the hosts against Africa's giants Eritrea. The later won three medals while Rwanda took four out of eleven medals that were there to compete for.
Rwandan riders clinched four medals; gold in junior women's TTT category that only had the hosts and Burundi in contention. Sterling Magnell's men snatched silver medals in elite men and junior men's TTT, as well as bronze in elite women's TTT respectively.
Africa's cycling giants Eritrea claimed the much anticipated race of the day, Elite Men's TTT for a record 8th consecutive time since 2011. The junior men's team of Eritrea also struck another gold in junior men's TTT fray and silver in elite women's category.
Algeria won bronze in elite men's Team Time Trial behind Eritrea and Rwanda while Ethiopia dethroned Eritrea as champions of the elite women's Team Time Trial.
Only from day one, Team Rwanda won more medals than it ever did in one edition of the prestigious continental showpiece. The championship resumes on Thursday with Individual Time Trial.
Subscribe ASSENNA YouTube to get Radio Assenna shows on time: