Eritrea denies it trained Ethiopia tourist killers
* Five foreign tourists killed on Monday * German nationals among victims * Ethiopia routinely accuses Eritrea of plotting attacks By Aaron Maasho ADDIS ABABA, Jan 18 (Reuters) - Eritrea has rejected Ethiopia's accusations that it trained and armed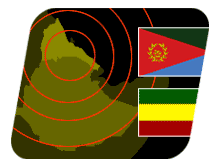 * Five foreign tourists killed on Monday
* German nationals among victims
* Ethiopia routinely accuses Eritrea of plotting attacks
By Aaron Maasho
ADDIS ABABA, Jan 18 (Reuters) – Eritrea has rejected Ethiopia's accusations that it trained and armed gunmen who attacked a group of foreign tourists in Ethiopia's Afar region this week, its envoy to the African Union said on Wednesday.
German nationals were among five foreigners killed in the incident late on Monday, Western envoys said. Other tourists were receiving treatment for serious wounds sustained in the attack. One escaped unharmed.
An Ethiopian government official told Reuters on Tuesday that the assailants were members of a group "armed and trained" by the Eritrean government.
"This is pathetic, an absolute lie. Eritrea has nothing to do with any of these movements," said Girma Asmerom, Eritrea's envoy to the African Union.
Ethiopian officials say the victims were mostly European nationals, but have not given further details.
A German Foreign Ministry spokesman said Berlin was working with the German embassy in Addis Ababa to clarify exactly what had happened.
Afar is a barren and hot corner in the Horn of Africa country, and home to one of the earth's harshest terrains.
The province's rock-strewn hills give way to vast deserts below sea level, and dry river-beds and acacia thorn-trees dot the landscape. Banditry is widespread.
Foreigners who venture out into the area usually include researchers, aid workers and adventure tourists visiting geographical wonders like the Danakil Depression, one of the hottest places on earth with ancient salt mines and volcanoes.
A German media report said the group of tourists had been close to the Erta Ale volcano, one of Ethiopia's most active.
Ethiopia and Eritrea fought a 1998-2000 border war that killed some 70,000 people, and the dispute still festers.
Addis Ababa routinely accuses Asmara of supporting Ethiopian separatist groups, and blamed an Afar rebel movement for the kidnapping of five Westerners in the region in 2007.
"It has become a trend for Ethiopia to fabricate sensational news against Eritrea whenever the summit is nearing," Girma told Reuters.
The Eritrean envoy was referring to an earlier accusation that Asmara plotted to bomb targets and disrupt an African Union meeting in the Ethiopian capital Addis Ababa in January 2011. (Editing by Duncan Miriri/Maria Golovnina)