Djibouti, Ethiopia accuse Eritrea of undermining stability
Djibouti and Ethiopia on Saturday accused neighboring Eritrea of undermining regional stability. In a joint statement, Djiboutian President Ismail Omar Guelleh and Ethiopian Prime Minister Hailemariam Desalegn called on the international community to "take serious steps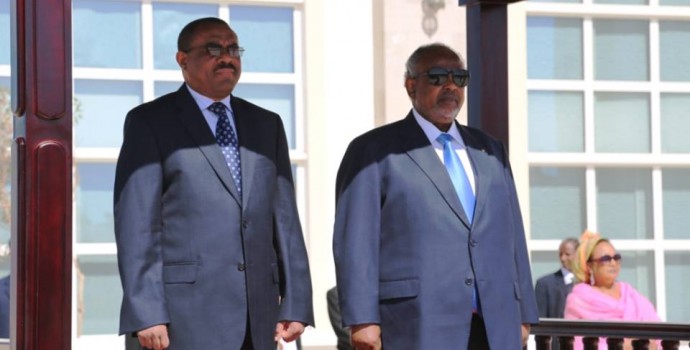 Djibouti and Ethiopia on Saturday accused neighboring Eritrea of undermining regional stability.
In a joint statement, Djiboutian President Ismail Omar Guelleh and Ethiopian Prime Minister Hailemariam Desalegn called on the international community to "take serious steps against the Eritrean government to prevent it from undermining stability in the region."
The Eritrean government could not be reached for a comment. Tension has been high between Eritrea and both Djibouti and Ethiopia over their border conflicts.
Djibouti and Eritrea have engaged in two border conflicts. In 1996, they almost went to war after a Djiboutian official accused Eritrea of shelling the town of Ras Doumeira.
Three years later, in 1999, Eritrea accused Djibouti of siding with longstanding rival Ethiopia, while Djibouti counter-accused Eritrea of supporting rebels fighting its government.
As a result, Djibouti recalled its ambassador and broke off relations with Eritrea, which weren't restored again until 2001.
The two countries clashed again for three days in the summer of 2008, leading to a further deterioration of ties and a U.N. embargo on Eritrea. Ethiopia and Eritrea, meanwhile, fought a two-year war over a border triangle in 1998. The two countries have also been trading accusations of supporting internal opposition since the end of the war.
Source: worldbulletin.net