WORLD WHY ERITREA'S BORDER WITH ETHIOPIA IS A CONFLICT ZONE – Newsweek
An Eritrean poses near a tank abandoned during the 1998-2000 border war with Ethiopia in Shambuko Town, Eritrea, December 23, 2005. The two countries have been in a "Cold War" scenario since the end of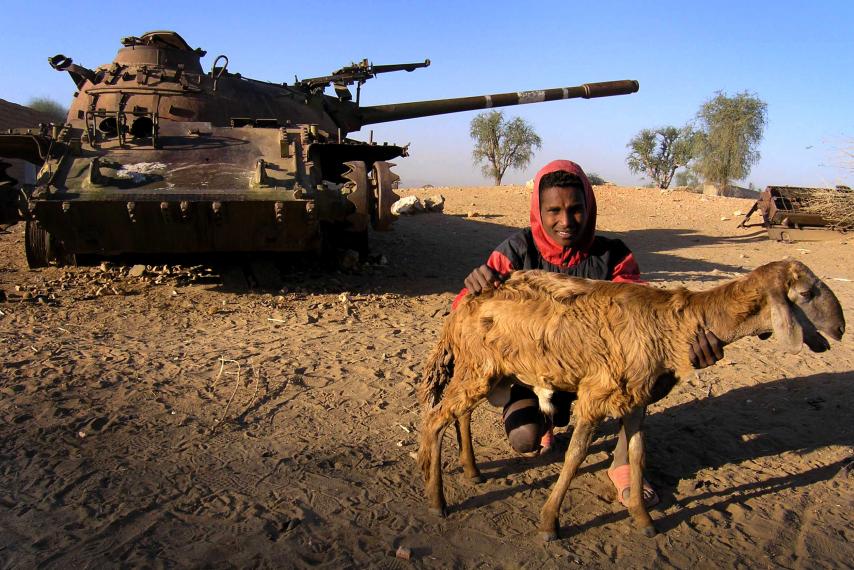 An Eritrean poses near a tank abandoned during the 1998-2000 border war with Ethiopia in Shambuko Town, Eritrea, December 23, 2005. The two countries have been in a "Cold War" scenario since the end of the conflict.ED HARRIS/REUTERS
Throughout the country's 25-year history, Eritrea's border with Ethiopia has been a hotly-disputed region.
Eritrea shares a 640-mile boundary with its Horn of Africa neighbor, from whom it only gained independence in 1991. The two countries fought a bloody two-year war over border boundaries between 1998 and 2000, since which bilateral relations have been characterized by a "no war, no peace" situation.
Now, Eritrea has blamed Ethiopia for clashes in the Tsorona region, about halfway along the border. The reported clashes have raised the specter of conflict in a region where tension is always high.
Until 1991, Eritrea was considered an autonomous region within Ethiopia. The latter's decision to attempt to annex the former in 1961 sparked a 30-year independence war. Against a much-larger and better-equipped Ethiopian army, the Eritrean People's Liberation Front won the war and toppled Ethiopian President Mengistu Haile Mariam, with the assistance of Ethiopian rebels. Eritrea was recognized as an independent state by the international community in 1993 following a United Nations-backed referendum vote in favor of independence.
Why is the border a flashpoint?
A full-scale war broke out between Ethiopia and Eritrea in May 1998 and focused on the town of Badme, which both sides claimed belonged to them. Eritrea was found to have triggered the war by attacking Ethiopian troops around Badme, according to a 2005 ruling by the Eritrea-Ethiopia Claims Commission, a body based in The Hague that was established to deal with the conflict's fallout. Over the next two years, tens of thousands of soldiers were killed on both sides in a bloody battle that achieved very little in terms of concrete boundary changes.
The conflict ended in December 2000 after a peace accord known as the Algiers Agreement was signed by both parties. One condition of the agreement was the establishment of a boundary commission that in 2002 ruled that Badme was part of Eritrea. While both countries initially accepted the ruling, Ethiopia later said it was dissatisfied with the boundary and Badme continues to be occupied by Ethiopian troops. "Eritrea and Ethiopia have essentially been in a Cold War since the last war in 1998-2000," says Ahmed Salim of political risk consultancy Teneo Intelligence.
An Eritrean soldier looks through a spyhole on the frontline in Badme, Eritrea, March 2, 2000. Tens of thousands of people died in the two-year border war between Eritrea and Ethiopia.SS/CLH/REUTERS
What's happened this time?
Following reports from residents living on the Ethiopian side of the border of hearing heavy gunfire, Eritrea accused Ethiopia on Sunday of infringing its territory. "The TPLF regime has… unleashed an attack against Eritrea on the Tsorona Central Front," Eritrea's Information Ministry said in a statement released overnight Sunday and reported by Reuters. The TPLF refers to the Tigrayan People's Liberation Front, a member of Ethiopia's ruling coalition.
Besides the claim from the Eritrean government in the capital Asmara, however, there is very little confirmed detail of what happened. Ethiopia's Information Minister Getachew Reda told the BBC he was not aware of any fighting, and details coming out of Eritrea have been scant, with the country having a notoriously closed media.
What could the clashes lead to?
If significant fighting has occurred, it is unlikely that either side will want to escalate the conflict, according to Jason Mosley, a Horn of Africa expert and associate fellow at Chatham House. "It's not in [Ethiopia's] interest to precipitate the collapse of the Eritrean state. The Eritreans are certainly not in a position militarily to want to escalate to a full-scale conflict with Ethiopia," says Mosley.
Eritrea is notorious for its conscription program. The compulsory national service program, which can often last for decades, continues to be indefinite, according to Amnesty International, despite the government in Asmara pledging in 2014 to limit national service to 18 months. The program is an oft-cited reason given by migrants and refugees fleeing the country—in 2015, Eritrea was the African country with the highest number of people applying for asylum in Europe. According to Mosley, "episodic reminders" of the "existential threat from Ethiopia" are useful to the Eritrean government in justifying its program. "Whatever the mechanics of what has or hasn't happened… the Eritrean state will probably try to portray this to the fullest extent it can as evidence of a very aggressive Ethiopian posture," says Mosley.
Are the clashes connected to Ethiopia's Oromia crisis?
Since November 2015, Ethiopia has been dealing with large-scale protests among members of the Oromo ethnic group, the country's majority ethnicity. These have resulted in a crackdown in which hundreds of people have been killed, according to Human Rights Watch. The Ethiopian government has said that Eritrea has backed the protests, which were initially sparked by plans to expand the capital Addis Ababa that would entail relocating Oromo farmer families.
People mourn the death of a man accused of protesting and shot by Ethiopian forces in Yubdo Village in Ethiopia's Oromia region, December 17, 2015. Ethiopia has blamed the Oromo protests partially on Eritrea.ZACHARIAS ABUBEKER/AFP/GETTY IMAGES
But according to Mosley, the Oromia crisis is an internal affair and has nothing to do with Ethiopia and Eritrea's border disputes. "[The Oromo protests] is the reaction from a certain educated strata of Ethiopian society about being completely blocked out of negotiations around the development planning," says Mosley. "It's not an Eritrean plot, this is an Ethiopian ruling party failing."