[Eritrean] Woman hit by police car in Walthamstow dies
A 26-year-old refugee from Eritrea died when she was hit by a police car responding to a 999 call. The pedestrian was struck by the marked vehicle on Forest Road, Walthamstow, east London, at 23:45 GMT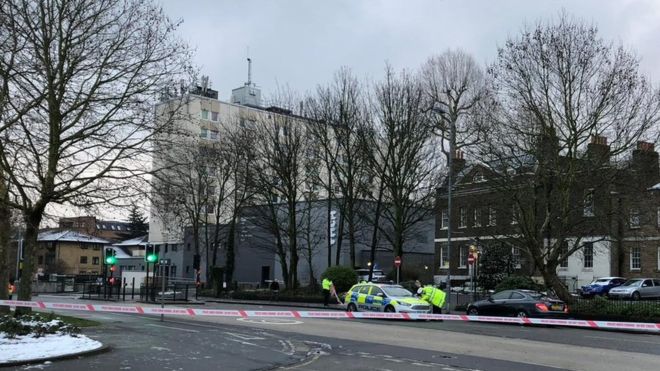 A 26-year-old refugee from Eritrea died when she was hit by a police car responding to a 999 call.
The pedestrian was struck by the marked vehicle on Forest Road, Walthamstow, east London, at 23:45 GMT on Tuesday.
Officers stopped and tried to help the woman, but she was pronounced dead at the scene when paramedics arrived, the Met said.
The YMCA St Paul's Group confirmed the woman had been a resident at YMCA Walthamstow for the past 18 months.
It said it was "shocked and saddened" by her death and was supporting its residents and staff with counselling.
Gilbert James, 44, who lives on Forest Road, said he "heard a loud bang and police sirens".
When he came out to investigate he said he "saw the person lying on the floor" and the police car windscreen "completely smashed".
Pav Kaur, who lives nearby, said there was "a very sombre atmosphere" in the area.
Police are trying to trace the woman's next of kin, who are thought to live outside the UK.
The car had been responding to reports of a man threatening members of the public, Scotland Yard said.
By the time officers arrived the man had left the scene.
The Independent Office for Police Conduct (IOPC), which has launched an investigation, said "two people apparently walked into the road" as the police vehicle travelled along Forest Road.
"One of the pedestrians was struck and sadly passed away," the IOPC said.
Read More: BC: Woman hit by police car in Walthamstow dies