Toronto Youth Establishes an Official EYC-EYSC Branch
The Toronto youth officially established a branch of the Eritrean Youth for Change (EYC) and the Eritrean Youth Solidarity for change (EYSC) on March 8, 2012. The official unification of the Eritrean Youth for Change Bay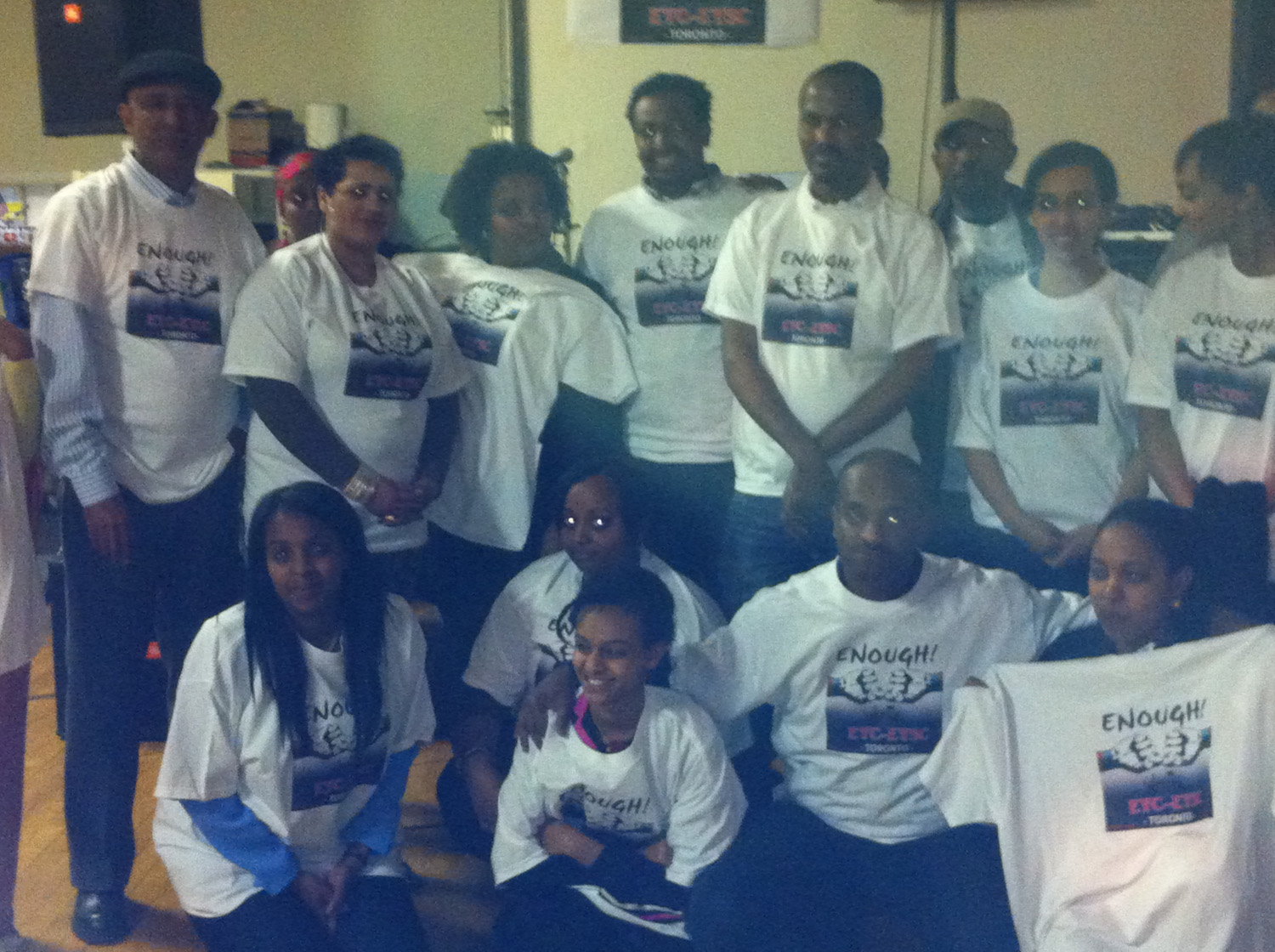 The Toronto youth officially established a branch of the Eritrean Youth for Change (EYC) and the Eritrean Youth Solidarity for change (EYSC) on March 8, 2012.
The official unification of the Eritrean Youth for Change Bay Area, and the Eritrean Youth Solidarity for change have inspired and encouraged the Toronto Youth to adopt the goals and charters of the two organizations and have decided to be part of the united force  thereby formed the Toronto Branch.
The participants of the Toronto branch, after appreciating and praising the initiatives and leadership taken by the two groups, have pledged to be part of the group, and have given their full commitment to contribute what they can unreservedly.
The participants have reviewed and discussed the EYC-EYSC goals and charters line by line for over three hours. They have determined to reject any sub national feelings and pledged to work to the best of their ability to alleviate the suffering of the Eritrean people. In order to have an effective activities and organized work plan or ethic, they have elected Nine (9) members of an interim board of directors.
Although EYC-EYSC appreciates the diplomatic or political support, it believes that Eritrea's problems can resolved by Eritreans alone. The corner stone of its struggles are:
The Isayas Regime to be removed at the Earliest possible time
All prisoners of conscience to be unconditionally released
The exploitation of Eritreans under the pretext of National service to be halted immediately
Although EYC-EYSC is a youth-led grassroots organization, its door is open for the participation to all sectors of the Eritrean society.
It's remembered that the Eritrean Youth for Change (EYC) Bay Area and the Eritrean Youth Solidarity for change (EYSC) have officially formed a coalition on February 25, 2012.
Until the groups select an official name in the upcoming conference, it will be known by the general name of EYC-EYSC.
EYC-EYSC TORONTO, Interim Board
ጨንፈር EYC-EYSC ብወግዒ ኣብ ቶረንቶ ተመስሪቱ
ጨንፈር ማሕበር ኤርትራውያን መንእሰያት ንለውጢን ኤርትራውያን መንእሰያት ስምረት ንለውጢን (EYC-EYSC)፡ ብርክት ዝበሉ መንእሰያት ኣብ ዝተረኽብሉ ኣጋጣሚ ብ8 መጋቢት 2012 ብወግዒ ኣብ ቶረንቶ ተመስሪቱ።
ማሕበር ኤርትራውያን መንእሰያት ንለውጢ በይ ኤርያ ምስ ማሕበር ኤርትራውያን ስምረት ንለውጢ ድሕሪ ዝገበርዎ ወግዓዊ ስምረት፡ ንመንእሰያት ቶሮንቶ ባህታ ዘሪኡ ፍናን ስለዝሰኹዓሎም፡ ንመትከላትን ዕላማን ናይቶም ማሕበራት ብምርዓም ኣካል ናይቲ ስሙር ሓይሊ ንምዃን ናይ ቶረንቶ ጨንፈር መስሪቶም።
ኩሎም ተሳተፍቲ ነቲ እዞም ክልተ ማሕበራት ዝተኸተልዎ ኣብነታዊ ስጉምቲ ሞጒሶም፡ ብክፉት ልቢ ኣካል ናይቲ ስሙር-ማሕበር ኮይኖም ዝከኣሎም ከበርክቱ ቅሩብነቶም ገሊጾም።
ኣብቲ ንኣስታት ሰለስተ ሰዓታት ዝተኻየደ ኣኼባ፡ ተሳተፍቲ ንመትከላትን ዕላማታትን EYC-EYSC ሓደ ብሓደ ብምዝታይ፡ ካብ ዝኾነ ንኡስ ትሕተ-ሃገራዊ ስምዒታት ነጻ ኮይኖም ንወጽዓ ህዝቢ ኤርትራ ንምቅላል ብዝበለጸ መንገዲ ንጥፈታቶም ከሐይሉ ቃል ኣትዮም። ዕማማቶም ብዝተወደበን ዝጸፈፈን መስመር ንምክያድ ድማ ትሽዓተ ዝኣባላታ ግዝያዊት ቦርድ መሪጾም።
ማሕበር EYC-EYSC ዲፕሎማስያዊን ፖለቲካዊን ደገፍ ዘፍቅድ'ኳ እንተኾነ ሽግር ኤርትራ ብኤርትራውያን ጥራሕ ከምዝፍታሕ ዝኣምን ኮይኑ፡ እምነ-ኩርናዕ ቃልሱ፡- ስርዓት ኢሳያስ ብዝቐልጠፈ ከልግስ፣ ኩሎም ናይ ሕልና እሱራት ብዘይቅድመ ኩነት ክፍትሑ፣ ብስም ሃገራዊ ኣገልግሎት ዝግበር ጉልበታዊ ምዝመዛ ከብቅዕ፡ ይቃለስ። ብተወሳኺ EYC-EYSC ብመንእሰያት ዝምራሕ ግን ንኩሉ ቀጸላ ሕብረተሰብ ከተሳትፍ ርሑው ማዕጾ ዘለዎ ማሕበር ምዃኑ ይፍለጥ።
ማሕበር ኤርትራውያን መንእሰያት ንለውጢ በይ ኤርያ (EYC) ምስ ማሕበር ኤርትራውያን ስምረት ንለውጢ (EYSC) ብ25 ለካቲት 2012 ወግዓዊ ልፍንቲ ከምዝፈጸሙ ይዝከር። ክሳብ ኣብ ዝመጽእ ቀረባ ኣዋርሕ ጉባኤ ተጌሩ ወግዓዊ ስም ዝምረጽ፡ ንግዚኡ ብ EYC-EYSC ዝብል ሓባራዊ ስም ከምዝጽዋዕ ይፍለጥ።