There We Go Again
archive.assenna.com Commentary This is the season when especially composed fanfares announce the graduation of tens of thousands of Sawa and college graduates in Eritrea.  Yesterday's headlines read as follows:  "Participants of the 30th round National Service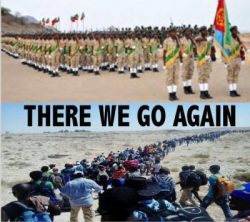 archive.assenna.com Commentary
This is the season when especially composed fanfares announce the graduation of tens of thousands of Sawa and college graduates in Eritrea.  Yesterday's headlines read as follows:  "Participants of the 30th round National Service and 8th course Vocational Training Centre graduated on 15 July in the presence of President Isaias Afwerki, Ministers, Army Commanders, Regional administrators, senior Government and PFDJ officials as well as national association heads and thousands of citizens from different parts in the country and abroad."
In the speech the un-elected president gave during the ceremony, he characterised the Sawa graduates as a 'vibrant and competent youth equipped with the necessary skills'.  He also underlined that 'tremendous achievements have been registered in nurturing physically and mentally fit youth since the centre opened its doors'.  However, that is not the full story.
The fact surrounding the graduate stories is an open secret in Eritrea.  Tens of thousands of youngsters are fleeing compulsory military service in Eritrea.  This year Sawa has graduated close to 15,000 graduates; last year, the 29th round national service graduated14, 000 recruits.  There are other figures that go along this statistics.
According to UNHCR sources, in 2016, 38,000 Eritreans asked for political asylum in Europe. Again, there were about 47,000 asylum seekers in 2015, roughly the same number as 2014. Those figures do not include refugees in the Horn of Africa region and throughout the African continent.   Those figures are not reported in the local media.
Ethiopia is the starting point for Eritrean refugees making their way to Europe. Ethiopia has the highest number of refugees in Africa – more than 700,000 people according to international monitors, of whom more than 100,000 are Eritrean.
The post-independence period failed to bring in the much anticipated respite in the country.  Promises such as the ever elusive democracy, the foundation stone of the struggle, went out of the window since Isaias Afeworki grabbed power in 1991. Gradually, his arrogance took over and the ruling elite ventured into pleasuring escapades while the quality of life for the rest of the population, particularly for the youth, sharply deteriorated. The mass migration is a stark reflection of this catastrophe.
The more young people graduate from the Sawa Military Camp, the more refugees Eritrea continues to produce.   So how is the country benefitting from churning out recruits by the tens of thousands every year?