The YPFDJ CULT- Part Two
"Through clever and constant application of propaganda, people can be made to see paradise as hell, and also the other way round, to consider the most wretched sort of life as paradise. What good fortune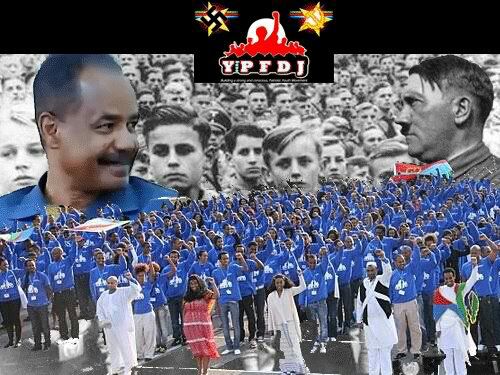 "Through clever and constant application of propaganda, people can be made to see paradise as hell, and also the other way round, to consider the most wretched sort of life as paradise. What good fortune for governments that the people do not think."  ~ Adolf Hitler
The criminal fascist serial killer, Adolf Hitler, who killed millions of people, wrote the above statement. He also said this: "He alone, who owns the youth, gains the future."
The main organizers and co-coordinators of YPFDJ events, concerts, and conference within the European Union countries are as follows:
Tedros Goitom (from Stockholm, Sweden, YPFDJ overall leader, today stationed in Germany, his father is of Ethiopian origins), Sirak Bahlibi (nicknamed Sirak Fatlibi because of his severe obesity problem, from London, UK, currently Scandinavian YPFDJ Leader and vice chairman of Public Affairs working in Eritrean Embassy in Sweden under the direction of the old gut-less Yonas Manna and the main PFDJ vehicle in Europe, spy and one-eye Gestappo, an ex-EPLF soldier and member of Halewa Sewra, Tekle Mengistu). Under these two "young" over 40 years old leaders of YPFDJ, are branches in YPFDJ jargon called chapters. Every chapter has its own main lackeys, who zealously and diligently work for their personal political ambitions. Dawit Haile, Sophia Tesfamariam and the PFDJ Embassy staff in Washington are the directors of YPFDJ USA. Dawit being the chairman of YPFDJ USA. I will expose most of the important lackeys of every YPFDJ chapters in Europe and America. YPFDJ is also beginning to spread to the Middle East. The idea is, of course, for majority of Eritreans to be members of PFDJ and obey only one single political Party for generations after generations, just like in many communist states.
Achieving some sort of power or post in the Eritrean governmental context is the primary goal of many opportunists in the YPFDJ. YPFDJ is just means to reach their primary goal of some sort of power in the Eritrean government; of course, it is lovely bonus that they can freely and happily party, travel, drink and fornicate annually at conferences traveling around Europe, USA and during Eritrean summer tours, Sawa Festivals, etc., – paid by Eritrean 2% public taxes and fundraisings of parents at public meetings- while working for their primary political ambition of being "Eritrean leaders of the future" unlike the pitiful Eritreans in Eritrea who are imprisoned by the indefinite national slavery system.
Therefore, YPFDJ is a great club of leisure and enjoyment for many selfish Eritreans – who do not even sympathize with the people inside Eritrea agonizing from economic, social, cultural and artistic desolation, youth who are escaping in thousands every month for better life and freedom; and the multitude of innocent Eritrean refugees who are falling victims into the hands of human traffickers – especially for the YPFDJ leaders.
Since ancient era, the youth have always been at the center of the hearts- and the attraction of totalitarian regimes, since they are naïve, gullible, excited, strong, full with feistiness, eager to please by working harder to achieve greater accomplishments than previous generations; totalitarian regimes exploit the under-developed minds and un-matured thinking patterns of ambitious adolescents  to use them as cannon fodder in wars, as propaganda tools and cash generating working slaves in peaceful times. YPFDJ members are no different; they are being used as cash generating tools and to provide the regime an outward look for misinformation purposes- as a warning to the Eritreans in Eritrea, that PFDJ has strong monopoly on Eritreans in foreign countries.
Many wrote varying sorts of comments as response to the first article about the YPFDJ; one comment by a certain person called Genet in particular caught my attention since she described the eerie, disgusting and dreaded aura of the YPFDJ cult-like communion perfectly thus:
-Quote
THANK YOU FOR TELLING THE TRUTH.
EVERY WORDS IN THIS ARTICLE IS ABSOLUTELY TRUE. IN MY CASE, BROUGHT MEMORY OF PAST EXPERIENCE WITH YPFDJ AND LATER ON PFDJ'S RECRUITERS. HOW THEY TRIED TO MAKE ME FEEL AS UNERITREAN BECAUSE I ASKED THEM QUETIONS. AT ONE TIME, I ASK A YPFDJ RECRUITER, WHY WE NEED TO BE MEMBERS OF YPFDJ PARTY? HE SAID TO ME, "NO PFDJ IS NOT A PARTY; SEE IT AS A CLUB THAT YOU ARE A MEMBER OF" I ASKED, WHAT DOES THIS CLUB DO FOR MEMBERS, HE SAID TO ME,"YOU LEARN ABOUT ERITREAN CULTURE AND MEMBERS ARE VERY SUPPORTIVE OF EACHOTHER". I SAID NO, BECAUSE I VALUE TO BE INDEPENDENT. ALL THE YPFDJ AND PFDJ'S RECRUITERS I KNOW ARE TEWLIGEE, OR HALF-CASTS OR MIXED- ERITREANS. I AGREE 100% WITH THIS ARTICLE THAT THESE PEOPLE ARE NOT ERITREAN MENTALLY AND CULTURALLY. IF YOU GET IN TO ARGUMENT WITH THEM, THEY ARE NASTY AND RUDE. THEY ARE LIKE AN OUTSIDER, NO REGARD FOR OTHER ERITREAN. THEY GIVE YOU CREEPY FEELING. THESE ARE THE PEOPLE WHO WEAR THE ERITREAN FLAG AT ANY EVENT. MAKE ERITREANS UNCOMFORTABLE; THEY ARE PUSHY PEOPLE. THEY ARE NOT GENUINE. WHEN I READ THE ARTICLE, I CRIED BECAUSE, I KNOW SO MANY YOUNG AND ADULT ERITREANS WHO ARE BEING SUCKED IN TO THIS DESPICABLE SCHEME. WE ALL NEED TO BE VIGILANT CITIZENS TO SAVE OUR PEOPLE YOUNG AND OLD. PFDJ IS MOLDING OUR PEOPLE TO BE ROBOTIC DAMNEDS. IF WE DON'T DO ANY THING AT THIS TIME WE ARE DOOMED!
Genet
-End quote
Genet, you are lucky that you escaped with your emotions and mental health intact. Asking too many unnecessary questions is the quickest and surest way to invite damnation, isolation, ostracize and eventually excommunication from the YPFDJ.  The perfect YPFDJ member (to the leaders of YPFDJ/PFDJ) is the one who avoids questions and just claps when he or she is expected to clap, repeat what is expected and what has been said by Yemane Monkey.
In my first article I talked in general about the coercive persuasion and behavior modification techniques to use against YPFDJ members and other Eritreans taught by "Desbele", the PFDJ political cadre instructor and teacher in Sawa, Eritrea. I had heard about brainwashing and mind control before, but I never realized it was a serious field of study; and still to this day, I still do not believe that any techniques of mind-reform or brainwashing can work on a national level and against millions of citizens of ordinary people, even if it was to be actualized on the most backward and uneducated people.  It may work for some time, but it will be unveiled and citizens will deduce through the lies, propaganda, brainwashing, scams, and acts of deceits eventually.  The shameful history of all the collapsed totalitarian regimes in modern era is a clear testimony and proof of that. Unless a government creates tangible economic and social developments that ordinary citizens can positively exploit in their daily lives, no propaganda and lies can dilute the strength of a people to free themselves of economic, social, cultural detriment and bankruptcy.  Moreover, past world history is a witness to the fact that no people lived in fear and in artificially induced psychological shackles laid on them by tyrannical and authoritarian regimes indefinitely. It is impossible. It is a natural law that a cup spills out, when it is filled with more than it is able to contain.
A sentence Desbele repeated often times still resonates in my ears. He told us, that all these mind control or behavior modification techniques need one essential factor to work. This is the alpha and omega of mind control and brainwashing. This is the key success factor, cornerstone and the fundament of all coercive persuasion techniques.  It is to keep the subjects unaware that they are being manipulated and controlled, to be low-key, less obvious, using various coordinated covert soft-sell  programs – especially the YPFDJ members, they must not be allowed to doubt, lose faith in, open their eyes to or ask questions regarding the modus operandi of the PFDJ -by treating them well, with respect and according to what they are accustomed to in the West, they must be protected from real or fabricated negative stories regarding the EPLF and the PFDJ.  Desbele instructed us that it was the job of people like us, who are chosen because of our sharpness and the ability to understand  Europe-US born and raised kids to service new YPFDJ members with romantic and rosy stories about the Eritrean struggle, the fairytale goals and visions of PFDJ and the wonderfully concocted made-believe stories and feigns about the "self-reliant proud African bastion state, free of aid dependency, free of hunger and malnutrition, on its way to achieving the UN millennium goals ahead of all African countries". According to Desbele, "emnet abalat meszigodel, hadega wudub eyu zeketel"; losing faith of members is danger to the organization.  Disbelief in the organization equals defeat/treason according to the bylaws of PFDJ/YPFDJ, he reiterated boldly.
Desbele, furthermore, indoctrinated us that if any member begins to fall away, meaning to ask questions or disagree with the teachings of the PFDJ, in these cases, he began instructing us what to say and what to do, beginning with benign and soft responses to their doubts and if necessary using blackmail, fear inducing methods, isolating the person or group of persons from the YPFDJ circle and the Eritrean community, disallowing them to attend in parties, festivals, churches, etc- generally treating them as recluses, loners and outcasts, to mentally and psychologically break them down, even to the degree of making them drug addicts, drunks and unemployed failed individuals as to make them examples to others who may harbor similar anti-PFDJ emotions; but if they apologize for their anti-PFDJ emotions, malice words and acts, they should be given another chance and allowed to prove themselves as new and devoted supporters under strict supervision of other YPFDJ/PFDJ leaders.
In Sawa, Desbele without any shame or fear, very casually, repeatedly instructed us using even Biblical terms for his perverse political lectures; "If your right eye makes you stumble, tear it out and throw it from you"- this parable he used in order teach, that we as the cadres and real leaders behind the curtains should constantly remain vigilant of dissidents within the YPFDJ movement and we should not provide them air to even breath, we should immediately isolate and discard them. His favorite saying was; " Kesrehekum Zeykelu Guhafuwom". This is the central motto of PFDJ. To throw dissidents into the dustbin, only the instructions of the "Great Leader", Xelim Africawi Mao, are revered and obeyed, nothing else.
I will continue exposing the mind control techniques of PFDJ instructed to us by Desbele and the directions given to us on how to combat the anti-PFDJ elements, especially the youths like the Smerrr, EYSC, EYSNS, Arbi Harnet, demo.archive.assenna.com, the Wegahta Radio, Erena Radio boys whom Desbele categorized as "Guhaf Debrezeyti" and "Akaleb Woyane"; this he said with much obvious hatred in his face and eyes. His statements and the hateful passion with which his eyes became blood red when he spoke about anti-PFDJ Eritrean youth really did expose great deal regarding PFDJ's worries when it comes to the youth. He told us, the old oppositions "nay jebha teraf meraf" are harmless and they are under PFDJ's control, it is only the youths who may become a danger to the national security of the Eritrean state. The government will do something about it, he said and lectured us fervently that as YPFDJ leaders, we should also play a central role in counter-attacking these elements via propaganda, demonstrations and the Internet, including street tactics, in layman words, this means using violence against them to induce fear. PFDJ's next move is to introduce hardcore violence among Eritreans in USA and Europe in order to paralyze all active youth opposition in the West, according to Desbele.
Until next time, I would like to leave you with a thought concerning why I believe categorizing YPFDJ as a cult is appropriate by reading the story of Nick Skinner, an English man, who was sucked into a Costa Rican religious cult, found himself brainwashed, suicidal and had to fight for his child who was kidnapped by the cult:
http://www.telegraph.co.uk/news/celebritynews/9061694/How-Igot-sucked-into-a-cult.html
After reading Nick Skinner's sad story, hopefully, you will come to understand that anyone can fall into the trap of cults and grip of fascist organizations easily,  since most human beings are highly eager to socialize, to belong somewhere and desirous of fighting for higher cause and making a change in the world, this is the lure and the entrapment cults use to their advantage; they deceive the members with highly virtuous idealistic goals and visions, and they usually got greatly gifted oratorical and charismatic leaders to augment their deceptive agenda. The main methods of cult recruitment revolve around deception and manipulation. Potential recruits are not told the true nature or intentions of the group. Instead, recruiters portray it as something mainstream, low-pressure and benign. Recruiters identity the specific needs or desires of their targets and play to them. They learn to pick up on a person's fears and vulnerabilities and portray the cult  to meet the desired need and expectations of individual recruits.
Almost all cults and fascist organizations demand  members to obey a dress code, rituals, timetables, singing, hymns, they got slogans, they got saint martyrs, especial unique anthems and flags…..does this ring a bell?
Most importantly,  they demand high dedication, time, money, support from the recruits; and individual God-given freedom. Cults rob you of your free thinking, most of all. That is what YPFDJ does in a nutshell.
To be continued ….
Part 1: The YPFDJ Cult