The polygamy hoax that spread from Iraq to Eritrea – BBC
A false rumour that men in Eritrea would be legally obliged to marry at least two women went viral this week. But it's a hoax that has hit at least four countries to date, and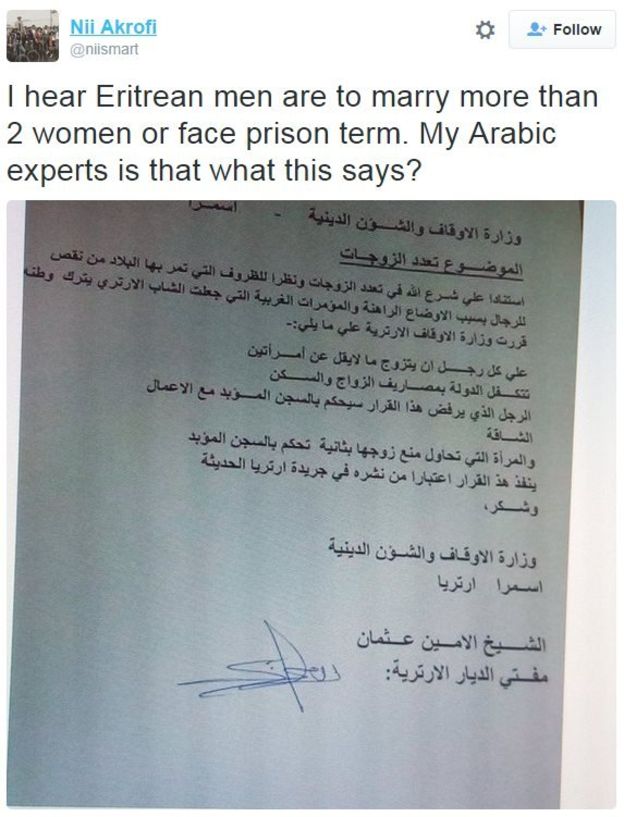 A false rumour that men in Eritrea would be legally obliged to marry at least two women went viral this week. But it's a hoax that has hit at least four countries to date, and actually began in Iraq, where it wasn't as implausible as it seems.
When a far fetched story about enforced polygamy in Eritrea began circulating, it captured attention across the continent. But in fact similar stories – all of them false – have cropped up in a number of countries since the beginning of the year.
And in each case, the way hoaxers spread the rumour on social media pretty much identical. Here's how it plays out.
An "official" government document is leaked on social media, bearing a letterhead, or the signature of a supposed dignitary.
Read More:The polygamy hoax that spread from Iraq to Eritrea