The Happy Times Before the Misery – By Samson Solomon
This picture has been taken in 1994; a couple of years after Eritrean independence, and shortly after referendum. Although I was very young, I remember the day vividly. It was the first big wedding in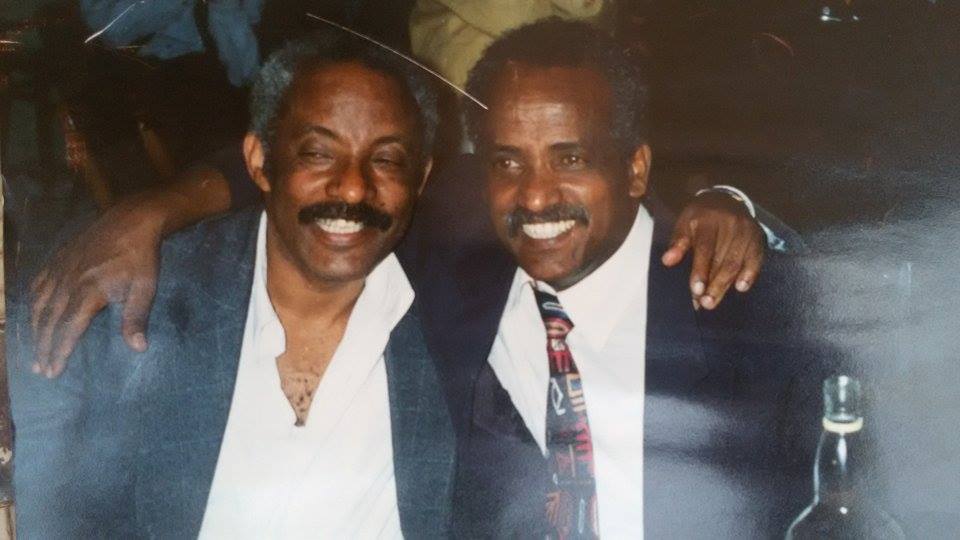 This picture has been taken in 1994; a couple of years after Eritrean independence, and shortly after referendum. Although I was very young, I remember the day vividly. It was the first big wedding in our extended family, following those national events. The bride and bridegroom came from Germany after many years in exile and got married that day. Not only for the couple, the wedding ceremony was a rare family occasion for many of the relatives and friends too.
These two cousins hugging each other happily are Ogbe Abraha Engda and Solomon Habtom Engda, both veterans of the liberation struggle. One doesn't even need to examine the photograph deeply to see the vivid happiness in their eyes.  For me, the mixture of endurance and joy, the "Yes we made it!" attitude is clear in their glowing smile. Indeed, it was a celebration for making it together through the good and the tough times.
That day was probably the happiest in their life. The pain they endured, the brothers and sisters they buried, their fathers who passed away before the independence was achieved were all forgotten just for that moment. Yes, a moment worth spending life in hell.
They were surrounded by all family members and love was flying everywhere. People were dancing, laughing; hugging each other … it was an exceptionally glorious day.
It didn't take that long for the honeymoon like atmosphere to get disrupted though.  A couple of years after the' border war', in September 18th 2001,  Ogbe Abraha has been arrested and two years later his cousin (my father) Solomon Habtom followed him to prison. That sweet day of joy was never to be repeated again. The happiness was replaced by sorrow, the smiley faces covered with tears; family members forced to scatter all over the world. There are no words to express the excruciating pain deep in our hearts.
Beyond the nostalgia and pain however, I have learned something interesting from my dear father and cousin. They thought me that there is light after darkness and hope after such challenging times. They showed me how to love my people, my family and myself. Nobody can take that lesson away from me.
I have a dream; one day, all their sons, daughters and grandchildren… all family members who are left behind will have even bigger get together in Eritrea, in the land they are buried at. Yes, one day, I will hug my cousin ( Ogbe's son), Mehari Ogbe; and we will both have broader smiles than what you see on this very picture of my cousin and my dear father who just passed away in prison last month.