Teen refugee from Eritrea arrives in San Jose after travel ban delay
The 17-year-old girl arrived alone in San Jose on Friday, marking a new chapter in a painstaking journey that took her from a refugee camp in Ethiopia to a new life in the Bay Area. Waiting at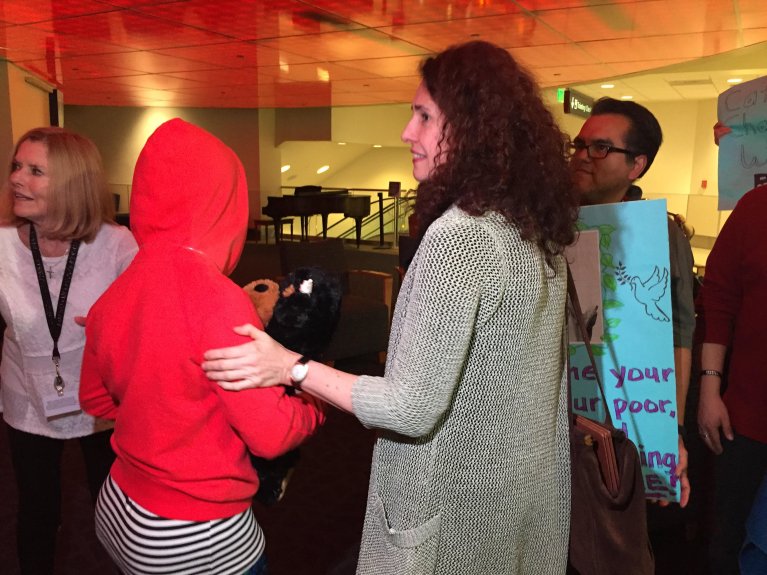 The 17-year-old girl arrived alone in San Jose on Friday, marking a new chapter in a painstaking journey that took her from a refugee camp in Ethiopia to a new life in the Bay Area.
Waiting at the end of a long passageway was her new foster mother, an Oakland sociologist with no children of her own.
The two women had never spoken, yet they would go home as mother and daughter.
The teenager's trip to the U.S., after years of waiting, was interrupted by President Trump's order suspending refugee arrivals and her original trip to San Jose was cancelled. But on Friday, she finally landed at Mineta San Jose International Airport, where she met her foster mother, Laura Fantone, after being greeted by a small crowd holding welcome posters and balloons.
Once an activist in her native Italy, Fantone had volunteered at refugee camps across Europe and welcomed refugees fleeing political turmoil in Yugoslavia. But this time, something spurred her to act in a much larger way, she said.
"I did the (foster parent) training and started to really take in the idea of what it means to open your door, open your home, open your heart to someone that you don't know," said Fantone, who teaches at Santa Clara University.
"I'm glad that I have this chance, but a lot of people are still struggling to get out of the countries that have been blocked because they are a Muslim-majority and this is clearly unconstitutional."
Fantone said she spent Thursday shopping for ingredients to cook traditional Eritrean dishes, which she researched online. Their first few days together will be spent exploring their East Bay neighborhood, shopping, meeting family members and making trips to the library, she said.
The Eritrean girl is going home with Fantone as part of a refugee foster program run by Catholic Charities of Santa Clara County. Catholic Charities, the girl's legal guardian, declined to identify her in order to maintain her privacy. Since the Eritrean government does not allow people to leave the country, they feared naming her would put her extended family and other loved ones at risk, according to Angela Albright, director of the organization's refugee foster care program.
Alone in her native Eritrea, the girl fled to Ethiopia to escape political turmoil. In Ethiopia, she lived in a refugee camp for many years.
Albright did not provide details but said the girl is an orphan. She was cleared to enter the U.S. by the United Nations after several years of vetting, according to Catholic Charities, which trains potential foster parents and later matches them with a refugee child.
"These are wonderful human beings who open their homes to kids that they don't know and often don't speak the same language," Albright said. "But they recognize the bigger picture here, that these are kids that deserve a loving home. They deserve a second chance and a new opportunity."
Catholic Charities' Refugee Foster Care program is the only program in Northern California that serves unaccompanied refugee children who are fleeing oppression, according to staff.
Critics say that welcoming refugees from around the world puts the U.S. at increased risk of terrorism. Many also argue that refugees take valuable resources away from American citizens who need the same services. At the airport on Friday, one traveler told the crowd welcoming the girl to "go home."
Trump's Jan. 27 executive order suspended the entry of residents from seven Muslim-majority countries — Iran, Iraq, Libya, Somalia, Sudan, Syria and Yemen — for 90 days and temporarily suspended U.S. refugee admissions.
After a Washington state judge blocked the order last week, families throughout the Bay Area were reunited with spouses, students, business travelers and vacationers who had been stranded overseas.
The Trump administration appealed the Washington judge's order, but on Thursday a three-judge panel of the 9th U.S. Circuit Court of Appeals in San Francisco ruled that the travel ban will remain suspended.
When she arrived In San Jose, a surprise awaited the refugee girl. As she walked past airport security, she saw a familiar face — her best friend from the refugee camp in Ethiopia had also been resettled in the Bay Area. The two cried as they embraced.
Overwhelmed, the girl asked for privacy through a translator and walked off with her best friend and her new foster mother.
Source:mercurynews.com