Take it or leave it: There is only one way to Democracy
Fetsum Abraham//5/14/2013 I first want to encourage the opposition forces to continue the resistance, yet I respect and thank them all for hanging on this far individually or in group. As we all know, our opposition forces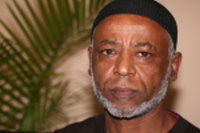 Fetsum Abraham//5/14/2013
I first want to encourage the opposition forces to continue the resistance, yet I respect and thank them all for hanging on this far individually or in group.
As we all know, our opposition forces (parties And CIVIC organizations) were doing their activities without a threat from the independent minded pro-democracy forces in Diaspora. They took so much time to unite and yet, they are still apart certainly for obvious reasons. As the tide of the movement turns in favor of people looking for democracy in Eritrea, the comfort zone of the scattered opposition forces aiming at undemocratically controlling political power appears to be in serious problem with all respect to whoever is affected by this assumption.
First, you do not form a political party and refuse to unite with other political parties unless you want to lead without a democratic process. You do not form a youth organization and refuse to unite with others alike unless you aim at political power in post-Afwerki Eritrea without election. Once we agree on transitional government as the only process by which democracy comes to Eritrea, the rest boils down to how genuine and practical the party and organizational leaders are in this respect. There is no other litmus test for genuine democratic spirit than forming a united front and joining it: Something is wrong otherwise and we will fight back to save the future of Eritrea from power mongering individuals that would not hesitate to dictate forever like that guy in Asmara.
If democracy means tolerance to opinion differences and if a transitional government requires unconditional unity of all opposition forces, can the staggering division of our forces and youth imply breaching the concept of democracy? What else then: The answer is positive and this is what Eritreans in Diaspora must be clear on and pressurize their leaders for unconditional unity before another surprise takes place in Eritrea. By then of course the nation will be useless all together because it is already at the bottom of the list in everything. Eritrea cannot afford another dictatorship in its current situation where it lags its neighbors in education, stability, exodus, human rights, etc. without becoming an easy prey of enemies and disintegrating because of civil war.
With intentionally broken family structure that went on for two decades and a systematically gutted out urban youth of the country leaving behind a well indoctrinated and uneducated peasant army only capable of protecting the regime, our country can neither protect itself from its enemies not can our people react to any adversities. Any mistake the resistance may undergo can cause a serious problem to the desperate society that has become a victim of power thirsty leaders all over the place. The society is today sandwiched between the destructive forces of dictatorship at home and some selfish leaders of the opposition forces who resist working under a united front. Responsibility lies on every Eritrean to do the right thing before the Afwerki regime completely collapses. Should the regime fall before the resistance unites chances are Eritreans will continue to suffer and abandon their country in mass probably with greater magnitude than ever before. The disgust and hopelessness will worsen and nationalism will further lose its essence putting the society in critical situation.
Seemingly, there are many Eritreans today silently watching the drama from distance. The excuse is, "the hopeless opposition forces" and I think it makes sense to some extent.
What is interesting in the flip of the coin is that some individuals working under organizations are not comfortable to hear UNITY and yet trying to spot a common ground that makes them work together outside FORMIG A TRANSITIONAL GOVERNMENT in Eritrea. This is having the cake and eating it too. What other common ground do we have other than this? How can the forces complain of lacking mass support when they are the main cause of the problem? Why should an Eritrean support individual forces that resist going through a transitional government to take power in the country? At the bottom line, there is no priority and a common ground for UNITY other than FORMING A TRANSIONAL GOVERNMENT and any one having a problem with this must be grilled to answer why and even rejected outright?
Please pay attention to how many parties and youth organization claiming for democracy we have around when in reality, the concept of democracy is a constant phenomenon that does not change forever. There is no other form of democracy except democracy itself, nor is there another form of justice other than justice itself. There is no ethnic or religious nor is there African or Caucasians democracy and justice, but only democracy and justice. Any religiously or ethnically affiliated organization cannot bring democracy and cannot rescue the people that it claims to represent. It rather uses them to control political power at the expense of their lives and destiny at large. A self nominated leader that concentrates on religion or ethnicity to solve the problems of a diversified society like ours is using his community as means of controlling power without representing its most fundamental issues, and will go as far as destroying everything including the community in question for power.
This is easy to prove: Can a MOSLEM or a CHRISTIAN organization make it without destroying the other? Can an ethnic based organization make it without antagonizing others in the society? A so-called leader as such is a bandit or a thug that does not care about his own community at all beyond using its sacrifice as a stepping ground to take power by force. Such a terrorist force is tuned to first destroy its own community for greed. Democratic forces must reject such enemies before they mushroom into a full-fledged force that can threaten our society.
In the flip of the coin, any organizational leader insisting on bringing democracy separate from others is a good an enemy as the menace two in the previous paragraph. I would ask a simple question if I were a member of an organization: what is the difference between your concept of democracy and others' for me to follow you? Are you for transitional government or what? If the first, then why are you resisting unity? If the second, then what do you want?
In conclusion, the concept of democracy demands its practical application in any circumstance. One has to first liberate the self before liberating others and any ethnic or religious oriented self-appointed leader does not have a liberated mind to liberate anything. So is any leader that resists a united front: he is not free himself to free others…PERIOD. Any organization against unity is a potential dictator as greedy and destructive as the system in Asmara. And any individual that buys the BS of such leaders is a potential slave ready to serve the master at the expense of society. TRANSITIONAL GOVERNMENT requires unconditional unity and let us please work hard to unite the forces as the main goal of the resistance. Do not accept any excuse against unity: this is not the time for Eritreans to separate and any organization claiming to bring about a better democracy in Eritrea is simply cheating. It therefore is the responsibility of every Eritrean to understand the consequence of recklessness in this issue and stand for a united front as strong as possible before it is too late.
I remind the Diaspora should request UNCONDITIONAL UNITY of all forces for TRANTIONAL GOVERNMENT in Eritrea during the Independence Day festivities as the priority of the struggle for DEMOCRACY. There is no freedom without this and it is not worth struggling for another opportunist to dictate without UNITY!! Happy Independence Day!