Sudan mourns musical icon Wardi
By Ian Timberlake (AFP) KHARTOUM — Sudan mourned on Sunday the death of musical icon Mohammed Wardi, a former prisoner who spent years in self-imposed exile but who died on home soil after seeing his beloved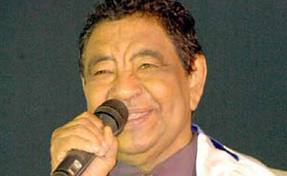 By Ian Timberlake (AFP)
KHARTOUM — Sudan mourned on Sunday the death of musical icon Mohammed Wardi, a former prisoner who spent years in self-imposed exile but who died on home soil after seeing his beloved nation divided.
"Mohammed Osman Wardi, Sudan's lead singer, passed away… in Khartoum," the official SUNA news agency said in a brief dispatch.
Wardi was born in 1932 on the island of Sawarda in far-northern Sudan. He began singing at the age of five, had his first hit in 1960, and still filled a Khartoum concert hall on New Year's Eve 2010, when he was carried on stage for a rare show in his twilight years.
"Everybody in Sudan loves Mohammed Wardi," a man from the western Darfur region said.
The Sudanese political activist group Girifna wrote in an online post that it "is saddened by the death of one of Sudan's revolutionary icons."
President Omar al-Bashir, cabinet ministers and musicians were among thousands who gathered to pay their respects to Wardi early Sunday when he was buried at a central Khartoum cemetery.
Wardi had gone into self-imposed exile shortly after Bashir, an army officer, seized power in a 1989 coup backed by Islamists.
The singer moved to Egypt and then Los Angeles to receive medical treatment for kidney trouble.
Tens of thousands of Sudanese greeted him at the airport when he first returned in 2002, vowing no retreat from the leftist views often heard in his moving songs.
"I am a human being, and every human being is against dictatorship and I will continue to denounce it," he told AFP in June 2002.
"The atmosphere does not encourage creation. Freedom is essential to the blossoming of art."
He said he did not regret the time he spent in detention under former president Gaafar al-Nimeiry, who took power in 1971 after a three-day communist coup which Wardi applauded. The singer was jailed for 18 months.
Wardi sang patriotic as well as romantic songs about the Nile River and everyday Sudanese life in Arabic and his native Nubian dialect Halfawi.
Just over a year ago, he told AFP that the 2005 peace deal which ended 22 years of civil war with southern Sudan had encouraged his return with hope for "the unity of all Sudan."
But, speaking with sadness just before South Sudan voted overwhelming for independence, he said he had been singing about a united nation for more than five decades and he hoped "that even if south Sudan chooses secession, one day it will reunite with the north".
The South became independent last July.
Political analyst Magdi El Gizouli wrote in a tribute that Wardi "will be missed", not only in Sudan but around the region.
"His legacy… extends beyond music," Gizouli said.
He recalled hearing Wardi's songs over loudspeakers as a school student and said the lyrics "were probably a primer in political education."