Sudan crisis: Protesters cut ties with military council
Protest leaders in Sudan have said they have broken off contact with the ruling military council that replaced ousted leader Omar al-Bashir. They accused it of being composed of "remnants" of Mr Bashir's regime. Thousands of protesters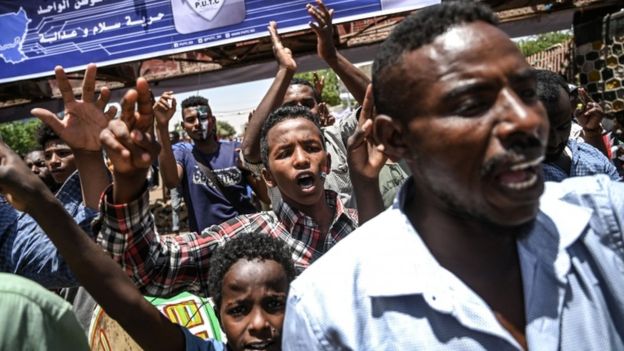 Protest leaders in Sudan have said they have broken off contact with the ruling military council that replaced ousted leader Omar al-Bashir.
They accused it of being composed of "remnants" of Mr Bashir's regime.
Thousands of protesters have gathered outside army HQ in Khartoum for a meeting to announce a civilian council they now want to take power.
The military says it is committed to handing over power and will consider a joint military-civilian council.
However, protest movement spokesman Mohamed al-Amin said they now considered the military council an "extension of the regime" and vowed to escalate the protests.
What now for Sudan's opposition?
By Fergal Keane, BBC Africa Editor
The crowds are still large and the cheering is still emphatic. But after more than a fortnight of protests the broad front of groups that makes up the Sudanese opposition finds itself confronted with one of the most fundamental quandaries to face a peaceful protest movement: what to do when those you seek to overthrow refuse to accede?
The protest leaders had been expected to announce their candidates for a civilian council to rule Sudan through a transition to full democracy. But last night – after days of expectation – they failed to do that.
This has prompted speculation about divisions as different groups argue about policy and positions. Instead the opposition said it was suspending negotiations with the ruling military council and called for escalating protests.
For now the generals on the ruling military council seem to have regained some cohesion. They have also been given strong backing – including more than $3bn (£2.3bn) in aid – from the Saudis and the United Arab Emirates. There is widespread scepticism among the opposition about any military willingness to hand over power to a civilian-dominated transitional council.
BBC