Subject: The Woes of Eritrea & Calling, once again, for the Historical WILL and HEROISM of the Eritrean People
Subject: The Woes of Eritrea & Calling, once again, for the Historical WILL and HEROISM of the Eritrean People PREAMBLE.                                                                                                                                                         First and foremost, one CRUCIAL point must be understood before discussing ANY matter, what so ever, pertaining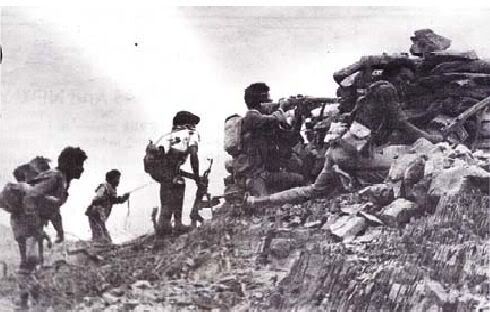 Subject: The Woes of Eritrea & Calling, once again, for the Historical WILL and HEROISM of the Eritrean People
PREAMBLE.                                                                                                                                                        
First and foremost, one CRUCIAL point must be understood before discussing ANY matter, what so ever, pertaining to Eritrea. It should be unedestood, by friends and foes, that ERITREA IS ALREADY  A SOVEREIGN STATE and a full-fledged Member of World-Wide International Organizations. What is being discussed below is only about an INTERNAL AFFAIRS of the STATE of ERITREA.
The above FACT should NOT be tampered with through 'back-doors' and sophisticated political manouvering [and betrayals too] at the expence of the entire population of Eritrea, who are THE LEGITMENT COLLECTIVE CUSTODIAN of ERITREA. Tampering with this fact — which was obtained through collosal sacrifice in 30-year war — is to push the Eritrean people to another upheaval and horrendous loss of human life and environmental destruction.  It would be the saddest historical phenomenon if the United Nations Organization becomes the open ENABLER to a hidden scheme against the ERITREAN PEOPLE who are only interested in having a Peaceful Country with Independence, Liberty, and the Freedom to run their LIFE in their own way in tandem with all other Members of the UN Organization according to the universal code of counduct in the BOOKS of the UN Organization.  One hopes that sanity will prevail against deception and manuovering that is going on in the 'bushes'.   END of PREAMBLE. Now, let me  address the titled subject matter of this Article
1.       Discussion on the main subject
It seems, Eritrea never possess anything easily. It is always the difficult way; the hard way; and consequently, the most 'expensive' way that Eritreans have to cough to get what others get without a sweat — at the lowest price too! Is it inherent that Eritrea is endowed with mysterious characteristic for Life? To say YES is to close the BOOK for ever, which means we would just fold our hands and be a silent spectator of Nature >>> hoping things will change 'tomorrow', somehow by some mysterious phenomenon.  And so, logically, it follows that I STOP here and wait for 'tomorrow……………… but I can't! And so, Dear Readers, please be patient with my diatribes and continue to read at your spare leisurely time.
2.       Action by Eritrea
By hook or by crook, Eritrea must MAINTAIN what it has already achieved out of the 30-year WAR for LIBERATION. There cannot be – indeed, there should never be – a lingering alternative. Doing so is tantamount to questioning the MENTALITY of the Eritrean Society, in its totality! It is blasphemy to simply assume that the horrendous sacrifice made by the Eritrean people and the destruction of the country as a whole amount for NOTHING.   Or – to put it absurdely – it is simple madness to surrender Eritrea to the country that it fought against, and came out victorious, for thirty-years to achieve INDEPENDENCE and OWNERSHIP of Eritrea!!! The destiny of Eritrea must (at any cost) be dependant upon the WILL of the Eritrean people, as a WHOLE – NEVER upon the whims of a single individual. Less than the cardinal Right of the Eritrean people it is tantamount to questioning whether Eritreans are indeed capable to be FREE and INDEPENDENT.
The forging of a scheme that is floating around is actually a TEST of the well-known DETERMINATION and WILL of the Eritrean people – as demonstrated during the 1961 -1991 era. For sure, it is still intact, though clouded by temporary confusion and surprises. In any case – once again — historical TEST is being hatched upon the Eritrean people i.e whether the subjucation of Eritrea during the last 27 years [1992 -2019] had any psychological effect on the moral of the Eritrean people.  OH! Lord, have mercy upon Eritrea – as it has suffered unproportionately for so long under the yoke of so many. NOT AGAIN!!!
3.       Historical Insidious Betrayal Perpetrated Against Eritrea.
At the risk of being repetitious, let me go back to the 30-year [1961 -1991] WAR between the tiny Eritrea [ of about 5 million] and the giant Ethiopia [of 100 million]. While Eritrea was able to defeat the well-known armed opponent and achieved its LIBERTY, it neverthelees LOST IT to a SINGLE indigenous hidden leader of the liberation war itself!!! Eritreans were caught off-guard by unexpected betrayal. It is the cruelest surprise ever perpetrated on Eritrea.  Even the well-known gallant and experienced Tegadelti were so infiltrated deeply that they were frozen like the legendery rabit against glaring light. Dito with the entire population of Eritrea. To use historical parrallel of other Societis as an argument is just a cover up and excuses.   Be that as it may, let us proceed with our subject matter as an expensive learning opportunity – sad as it is.
Absurd Question: Can a single person defeat an entire nation? Well, first of all, let us ask who Issayas Afewerki Abraha Miratch is. First and foremost, he is just a human being like all of us. But what makes him different are: a) his hatred for the Eritrean people based on 'deregatory name-calling' that he endured through out his youngster period and even in his adulthood; b) development of aggressiveness, vengeance  and hatred; c) the aquisation of tools such as self-appointed leadership and presidency to show Eritreans who he is; and c) finally the achievement of absolute dictatorship and determination to bring down the entire population of five million under his 'BOOTS".  He succeeded.
How did he succeed?  Answer: Issayas knew the "Achilles heel" of Eritreans such as: a) he knew the psyche of the Eritrean people; b) he knew the strength and weakness of Eritreans; c) he is born expert in manupilation of people; and d) unlike the rest of the mass, he is bold enough to take a risk.   With such string of talents, he manuplates the weak knee-bones of parochial divisions of Eritreans to the fullest — bringing down Eritrea helplessly flat on its face. There is no secrete. Issyas simply used the characteristic of Eritreans, as he knows it deeply.  Furthermore, with his tenacity, he lived up to his diabolical hateful promise >>> "ከርእየኩም'ዬ"። (1) I realize that I have repeated this quote ad nausea at the risk of irritating even the most patient, fair and insightful Readers. I realize too, that I am naïve on the extent of human nature. Just concentrating on Eritrea, five million people were deceived and out of their wits, in the 21st Century!
4.       Where do we go from here?
Before we answer the question, we must determine WHAT WE, COLLECTIVELLY, WANT AS ERITREANS.  This is a crucial step. Once it is sincerely and deeply agreed upon, the accomplishment thereof may not be that difficult to see it in reality. The thirty-year war was accomplished, with admirable success, because Eritreans wish to have LIBERTY, though keeping their inherent sociological differences on the back burner. The next step is for Eritreans to logically come to the conclusion, without any lingering doubt, that the OBSTACLE to THEIR LIBERTY must be 'wiped off' (2).  If we are unable to 'wipe off' the obstacle, the logical conclusion is that we must have inherent differences that frighten us to face THAT HIDDEN TRUTH. In conclusion, while we are paralysed with our individual parochial needs, the "obstacle" will keep on rolling collecting 'dust'and eventually disintegrate the machinery of the whole system. We are then (it seems in a bizzare phenomenon) 'relieved' [!?!] because we do not have to make hard choices but to:  a) let others take over the machinery; b) modify it in their own way; and c) benefit smooth running machinery in addition to their own.
Finally, to answer the question above [i.e. 'Where do we go from here"), we seem to be happly relieved from answering that question and leave the answer to other entities – and lead our Life as we had it for the last one hundred thirty years and more – but always with that everlasting DREAM of OUR ERITREA!!!
It is OUR choice; though it does NOT have to end that way. But as long as we latch to our inherent parochial mentality of religion, region, tribalism, racisim etc we will not move anywhere. The tendency to deny our REALITY is understandable but a hopless and short-sighted endeavour that serves no purpose for 'united Eritrea'. One thing is for sure: deceiving our selves will NEVER make us FREE [3]
Finally, as always [but sadly at the irritation of very few] I like to express my appreciation to www.archive.assenna.com for granting me a free space to express my opinion – as it is the greatest and cardinal Right in a democratic free society that WE ERITREANS are struggling to achieve.  May I also add that as an independent person, I do not have an iota of motive in expressing my admiration for the service provided under the able guidance of Mr. Amanuel Eyasu. THE END                             Rezen                                                                                                                                                                                           ———————————–                                                                                                                   
Footnotes                                                                  
(1) Page 322, Eritrea at a Crossroad by Andebrhan Welde Giorgis (2014)
 (2) Help me, Dear Scholars:  Was it not Khrushchev of the old USSR who asked: "what do you do if you see a 'dirt' on a wheel of smooth-running machinery?  He answered his own question: "wipe it off from the wheel".
(3)  I would like to appeal to those Readers who are inclind to solve problems by insulting others to concentrate on the cardinal issue and use their knowledge and wisdom for the benefit of our common Eritrea. We ALL have crucial 'LIFE AND DEATH' matter to deal with, pertaining to our Eritrea.