Subject: The Ever-Elusive True Liberation that Eritrea Never Achieved — Part 3
Commentary, 17 April  2019 Quote: "Poor Isayas already in trap that deserves.no more clubs, good by for good." Unquote by Danilo re: Article: THE ROPE AROUND ADOLF ISIAS'S NECK IS TIGHTENING DAILY: ANY MIRACLE TO SURVIVE THE COMING HURRICANE? (PART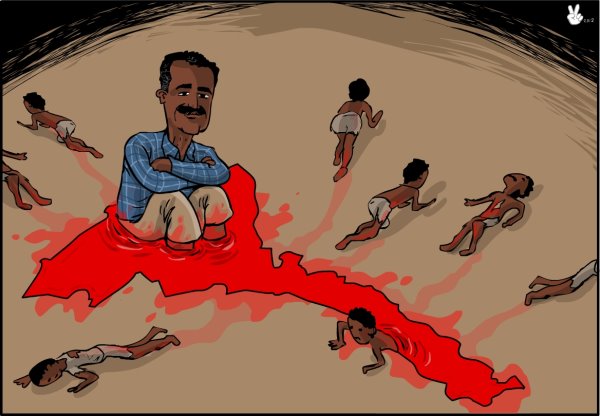 Commentary, 17 April  2019
Quote: "Poor Isayas already in trap that deserves.no more clubs, good by for good." Unquote by Danilo re: Article: THE ROPE AROUND ADOLF ISIAS'S NECK IS TIGHTENING DAILY: ANY MIRACLE TO SURVIVE THE COMING HURRICANE? (PART I) By: Abdu Habib
Well concluding sentence by Danilo.
NOW, perhaps it is time to recall recent history [or as we say: ናይ ትማሊ! ትማሊ! ትማሊ! ] and face innocent questions:
a)  In 1966 — at Mercato Bus Station, Addis Ababa, Ethiopia — who ever thought that a twenty-four year old Issayas Afewerki Abraha Miratch would be the singular, beloved and admired hero of Eritrea?
b) In 1994 — only three years after crowning of the MASTERSHIP  of Eritrean people — who ever thought that  Issayas  would reveal  himself to be the cruelest, hateful, vengeance  ENEMY of the renowned proud people of Eritrea?
c) Who ever thought that the gallant Eritreans who achieved – with unbelievable stamina, courage and goal — an INDEPENDENT FREE COUNTRY would wound-up being divided into countless 'opposition' groups, ostensibly for the SAME goal!?!?
d) What happened?  I have no answer. Let us leave the mysterious phenomenon to Eritrean Sociologists, Psychologists, Psychiatrists …..  since outside forces have their own valuable agenda, let alone to waste their time on people who have difficulty to 'sing the same song and waltz together' and
e)  Of course, WE KNOW the ANSWER but, in our own wisdom, we decided to deny it and ignore it, hoping that it will go away with the wind. But, sadly (for mysterious shield) it will never go away. Our history of one-hundred-and thirty years is unavoidable and uncomfortable proof. "CRY, MY BELOVED COUNTRY" Alan Paton [I think]. THE END
——————————————————-
Lengthy Post Script:                                                                                                                                                                                    Thanks to www.archive.assenna.com we are up-to-date about the various Diaspora Eritrean Meetings and interviews with individuals and groups of knowledgeable Eritreans around the Globe. We 'assume'  [dangerous word (1)] that they are, on the surface, tuned to the same goal. In that case, why not have one "Global" meeting representing the entire country in the struggle to recover the outcome gained out of the thirty-year war for the Liberation of Eritrea.  After all, it is not a new phenomenon for Eritreans to collectively getting together for any agenda they may have. At the very least, we can remember the yearly popular gathering of all Eritreans at Bologna, Italy.
Dear Readers: If we can do it during festivity, why not in a struggle to SAVE the WHOLE COUNTRY  in AGONY? Eritrea can never be saved by fragmented artificial effort. We have to genuinely discard our hidden parochial ambition and concentrate to SAVE ERITREA and let ERITREA define its own DESTINIY by itself for itself. Is that too hard to achieve as compared to the heroism displayed during the 1961 to 1991 struggle culminated in unique glory? It is a question to the consciousness of every ERITREAN.
(1)         "ASSUME": An astute friend of mine is used to decipher it as "you make an ASS of U and ME".  Or, as our neighbours Ethiopians put it: "ስንተዋወቅ  አንተናነቅ"