Spain receives first batch of refugees from Syria, Eritrea
Spain's interior minister says the first of more than 1,400 refugees from Syria and Eritrea are being welcomed for resettlement in new homes across the country. Jorge Fernandez Diaz said that an initial group of 19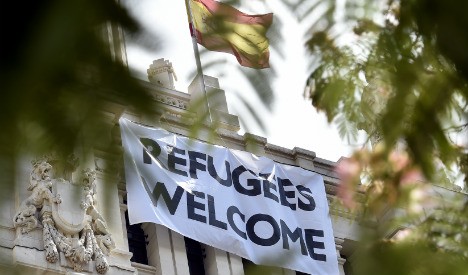 Spain's interior minister says the first of more than 1,400 refugees from Syria and Eritrea are being welcomed for resettlement in new homes across the country.
Jorge Fernandez Diaz said that an initial group of 19 refugees was being housed Sunday, placing Spain "at the vanguard of European Union nations that are putting into effect relocation plans."
Jose Luis Madrazo, director of family policy of the Basque government, said three Eritrean refugees were arriving in the northern region and "if everything goes well" they would soon be followed by around 1,000 more.
Madrazo said "we thought the process would go faster" but paperwork and preparations had been complex, adding that it was "strange that only three people can come now."
Spain has agreed to relocate some 1,450 refugees from war-torn countries.
(AP)